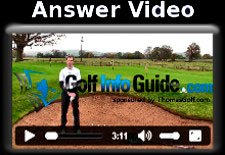 You're Correct!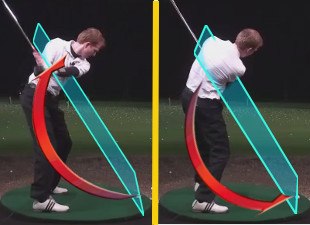 When taking the measure of a golf courses difficulty, we typically focus on the number of water hazards and bunkers, the speed and undulation of the greens, the presence of trees and the thickness of the rough. Theres another factor that can make a course play much tougher than meets the eye: fairway slopes.
---

Layouts built on hilly terrain present unique challenges for both average and advanced golfers. Not only must you account for sideways bounces off these slopes, you must adjust your club selection and address when playing shots from unlevel lies.
These are the basics: When hitting a ball lying below the level of your feet, the shot will tend to start right of target and fade farther right (for a right-handed golfer). A ball sitting above your feet will start left and curve left. Put another way, the ball will fly in the direction of the grounds tilt.
Now heres the why: With the ball below your feet, youre forced to stand closer, creating a more upright swing plane and a tendency to fade the ball. A ball above your feet moves you farther away and raises the clubs shaft, flattening your plane and inducing a draw.
Now heres how to handle each circumstance:
Ball below your feet
Take one more club than youd normally use for the shot distance; from a severe lie, two extra clubs may be needed (e.g., a 7-iron instead of a 9). Youll have an easier time reaching the ball with a longer club, while the exaggerated upright swing plane will cause the ball to carry higher and land more softly.
Choose your target – where you want the ball to finish – and adjust your aim to account for a push/fade. The steeper the slope youre playing from, the farther left you should aim. The ball will roll little if any after landing, so plan to fly it all the way to your target.
In taking your stance, bend a bit more at the knees rather than leaning out over the ball or bending more at the waist. Feel a little extra weight in your heels; this will help you maintain balance during the swing.
Focus on making a smooth, controlled swing and staying down through impact. With the ball below your feet, its very easy to come up and out of the shot.
Ball above your feet
Take one less club than normal; use two less (e.g., 9-iron instead of 7) for a severe sidehill lie. With the ball above your feet, youll naturally choke up (grip down) on the club, while the shot will fly low with hook-spin that causes extra run-out.
Pick a target, then aim right of it to compensate for a pull/draw. The more severe the slope, the farther right you should aim. Also, choose a landing spot short of the actual target to allow for additional roll.
Set up with more weight on your toes to promote better balance as you swing.
Swing with a little less than full power. Youll stay on the ball and make cleaner contact.
Sidehill lies are one of golfs most challenging variables. Learn the simple keys to playing them and they wont be a major obstacle.
Want more in-depth tips on handling sidehill lies? Check out these videos:
Ball Below Feet – What the Ball Does
Ball Below Feet – What the Swing Does
Ball Below Feet – Compensations
Ball Above Feet – What the Ball Does
Ball Above Feet – What the Swing Does
Sorry Try Again! - See Explanation Below
Do this and your shots will veer far off track. Because even a mild sidehill lie changes the dynamics of your setup and swing, the adjustments listed above are imperative. That said, you shouldnt let a wonky stance change your mindset. Theres nothing to fear.
Sorry Try Again! - See Explanation Below
A recipe for disaster. Remember, the ball will start and/or curve in whichever direction the ground leans. A rightward slope (ball below the feet of a right-hander) will send shots right, and vice versa for a left-tilting hill. Therefore, you should aim into the hill to compensate.
Sorry Try Again! - See Explanation Below
Swinging at full bore isnt recommended with a dead-level lie, and its the last thing you want to do when the grounds slope compromises your balance. Swinging at 75-80% power makes it easier to stay balanced and make solid contact off a tricky stance.