Hybrid Snag Free Putters
The hybrid putter is a new type of putter combining the advantages of a hybrid iron and a standard putter.
---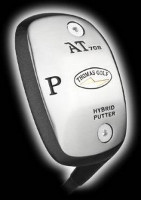 The best part of this new putter type is its snag-less body and sole design. The leading and back edges of the (hybrid iron size) sole are perfectly curved and will not catch the ground on the back swing or forward stroke. The Hybrid type sole slides with ease across short or long grass. From the green, first-cut, or just off the green, this putter is an excellent performer. The hybrid putter is made from Stainless Steel and is complete with machined face and resilient urethane insert for improved feel and distance control.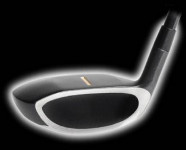 Snag-less Design
Very often, the ball ends up in the light rough, just off the edge of the green, or sitting on the outer edge of the fringe with its back up against the rough. This can be a tricky problem. It's best to get the ball rolling rather than try a chip, but if you use a regular putter, it will have trouble gliding through any grass taller than the fringe. Hybrid putters eliminate this problem with its large rounded sole that glides over the grass blades, allowing the putter to stay smooth and stable through impact.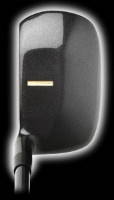 Hollow Head
The Hybrid style hollow head provides more forgiveness on contact, more detailed sound feedback, and more confidence before the putt. By pulling weight back away from the face. The center of gravity is optimized to get the ball rolling at impact and reduce skipping.
Alignment Technology
A flattened top area supports an aiming indicator level to the ground for perfect alignment. The defined gold alignment indicator offers the linear reference so crucial for the mind's eye to accurately aim the shot and swing-path to the target. For more information on: Snag Free Putter Click Here