In Ben Crenshaw's heyday, everyone envied his long, fluid putting stroke. These days, Brandt Snedeker's compact "pop" stroke is the one to copy. So who's right: Golfers who covet Crenshaw's silky motion, or those who prefer Snedeker's short, simple strike?
The answer: Both camps are correct, because both methods work. The key is finding the stroke that works best for you.
---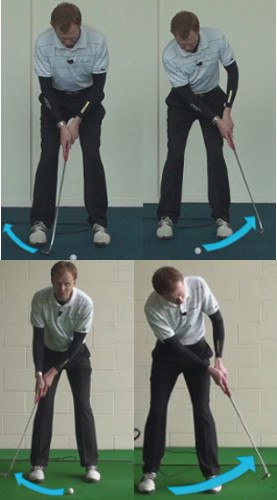 As Crenshaw himself learned from legendary teacher Harvey Penick, one should "never try to look like anyone else when you're putting. You have to be yourself when you putt."
In other words, do what comes naturally. If you swing the club with a slower tempo and comport yourself in a relaxed manner on the course, Crenshaw's stroke may better suit your style. Golfers with short, quick swings and brisk mannerisms might be better served by a Snedeker-type method.
From a practical standpoint, a longer, slower stroke is considered a great match for extremely fast, smooth greens. Remember, Crenshaw won the Masters twice by, well, mastering Augusta National's diabolically slick surfaces.
On the other hand, a shorter stroke based on acceleration, a la Snedeker, is often recommended on slower, bumpier greens. Of course, given Snedeker's success on the ultra-quick greens of the PGA Tour, maybe it's time to revisit that belief.
Let's look at a few pros and cons of each style.
Short "pop" stroke
Pros: Compact motion and acceleration key to good short putting; better chance of getting the ball to the cup when putting uphill or on slow, bumpy greens; short strokes often hold up well under pressure.
Cons: Too much "hit" can be fatal on fast greens; more difficult to control distance when lag putting; danger of getting too quick when nerves set in.
Long, smooth stroke
Pros: Easier to control speed and distance on fast greens; works well on downhill putts; unhurried tempo fosters calm demeanor.
Cons: Doesn't provide "hit" needed when greens are slow or bumpy; must constantly guard against decelerating the putter; pressure can speed up tempo, wreck the stroke.
Will you be more effective with the flowing stroke of a Ben Crenshaw, or the compact aggression of a Brandt Snedeker? Assess your own natural tendencies, and putt in the style that's most comfortable.