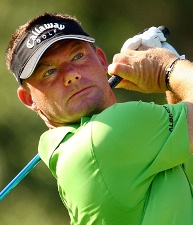 Alex Cejka
Height: 5 ft 8 in (1.73 m)
Weight: 170 lb (77 kg; 12 st)
Birthday: 2 December 1970
College: None
Year Turned Pro: 1989
Birthplace: Mariánské Lázne, Czechoslovakia
Country: Germany
Sponsor: Black Mountain
Born in what was then Czechoslovakia, Cejka settled with his parents in Germany at the age of nine, where he took a keen interest in golf from an early age. He now spends most of his time in Las Vegas, but also has a home in Prague, keeping some roots in the country of his birth. Cejka began his professional career playing on the European Tour, until 2002. His biggest win during this part of his career was at the Volvo Masters at Valderrama in 1995. Cejka started play regularly on the PGA Tour in 2003. In 2009 he seemed set for success in the Players Championship but his form collapsed and he lost to Henrik Stenson by eight shots. Cejka continued to play on the PGA Tour until 2012, when his 177th place finish saw him moving to the Web.com Tour.
After returning to the PGA Tour in 2014 he accomplished his first win in 2015, at the Puerto Rico Open. In doing so he became the first Czech born player to win a PGA event. Although born in Czechoslovakia Cejka has played for adopted country, Germany, eleven times in Omega Mission Hills World Cup. He lists his playing country as Germany.
Off the course Cejka has a varied lifestyle. He is a keen fisherman and pool player. When he isn't relaxing from the pressures of professional golf he also enjoys jet skiing and indulging in his passion for remote control aeroplanes.
As of the end of 2014 Cejka had played 275 events on the PGA Tour. Over the years he has achieved one win on the PGA Tour, amassing total prize money of $7,971,299.
Update:
Alex Cejka uses a neutral interlocking grip. This means that the pinky finger of his trailing hand (right hand) is placed between the index and middle fingers of his leading hand (left hand). The grip is considered to be neutral because it does not have a strong or weak grip pressure. This allows Cejka to have a consistent swing and control over the clubface.
Here are the steps on how to grip the club like Alex Cejka:
Hold the club in your left hand (for right-handed golfers) with your palm facing down.
Place your right hand (trailing hand) on the club so that the pinky finger is between the index and middle fingers of your left hand.
Wrap your right hand around the club so that your knuckles are facing down.
Apply a firm grip pressure, but not so much that you are squeezing the club.
Here are some of the benefits of using a neutral interlocking grip:
It provides a consistent swing and control over the clubface.
It helps to prevent the club from twisting in your hands during the swing.
It can help to reduce the risk of injuries.
If you are looking for a way to improve your golf game, experimenting with a neutral interlocking grip may be a good option for you.