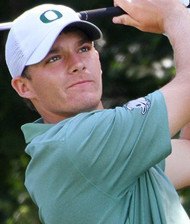 Height: 6 ft, 1 in (1.85 m)
Weight: 175 lbs (79 kg)
Birthday: June 21, 1996
College: University of Oregon
Year Turned Pro: 2016
Birthplace: Cape Town, South Africa
Country: South Africa
Sponsor: N/A
Aaron Wise was born in South Africa but he moved to the United States as he was just 3 years old. After turning pro in 2016, AaronWise joined the Web.com Tour in 2017 and the PGA Tour in 2018. During his short career, he managed to amass almost one million dollars in winnings by playing golf. Besides golf, Aaron loves roller coasters and motor go-karting, while his favorite golf players as he was growing up were Tiger Woods, Retief Goosen and Ernie Els.
Aaron Wise's pro-golfer portfolio includes a victory in the Web.com Tour, the 2017 Air Capital Classic Supporting Wichita's Youth, and also a Mackenzie Tour-PGA Tour Canada victory, at the 2016 Syncrude Oil Country Championship presented by AECON. Aaron made 6 starts on the PGA Tour and he managed to secure his 2017-2018 PGA Tour card for this season as he finished 18th on the 2017 Web.com Tour Regular Season money list.
Update:
Aaron Wise is an American professional golfer who competes on the PGA Tour. Born on June 21, 1996, in Cape Town, South Africa, Wise moved to the United States at a young age and developed a passion for golf. He attended the University of Oregon, where he played college golf and gained valuable experience before turning professional.
Wise turned pro in 2016 and quickly made his mark on the professional golf scene. In 2018, he secured his first PGA Tour victory at the AT&T Byron Nelson, where he displayed his exceptional skills and composure under pressure. This win propelled him into the spotlight and showcased his potential as a rising star in the golfing world.
Known for his powerful driving and precise ball-striking, Wise has showcased his talent on various courses across the PGA Tour. He possesses a smooth and consistent swing that allows him to generate impressive distance off the tee while maintaining accuracy and control.
Wise's success on the PGA Tour has earned him opportunities to compete in major championships, including the U.S. Open and the PGA Championship. He continues to refine his game and strives to compete at the highest level against the world's best golfers.
Beyond his achievements on the course, Wise is admired for his sportsmanship and dedication to giving back to the community. He actively supports charitable initiatives and uses his platform as a professional golfer to make a positive impact.
With his youth, talent, and determination, he is poised to have a successful and promising future in professional golf.
Wise serves as an inspiration to aspiring golfers, showcasing the rewards that can come from hard work, perseverance, and a love for the game. His journey from a young golfer with a dream to a professional on the PGA Tour serves as a testament to the possibilities that lie within the world of golf.