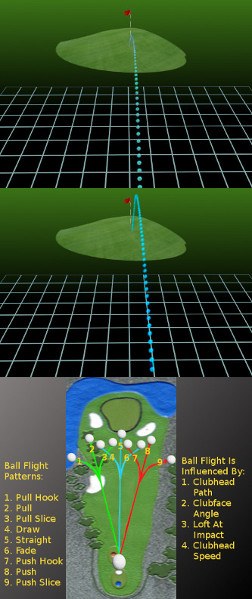 Let's say your go-to shot is a high fade. But you're facing a back-left pin position with the wind in your face. Can you hit the low draw needed to keep the ball down and possibly get it close?
---
Very few amateur golfers have the skill to play more than a couple of different shots. Pros and low single-digit handicappers, on the other hand, can adjust on the fly when the situation demands something besides their standard shape.
Johnny Miller devised a practice game called "nine-ball" that requires hitting nine shots of different shapes and trajectories: One high, one low and one medium straight ball; a high, low and medium draw; and a high, low and medium fade. Miller recommends a 6-iron for the drill, done at the end of each practice session, with one point awarded for each successful attempt.
---
---
Miller credits shotmaking virtuosos Lee Trevino and Chi Chi Rodriguez for inspiring the drill, noting that he typically scored six or seven points when he began using it in his prime. Miller eventually worked up to nine points and says he can still achieve a perfect score as a 66-year-old TV commentator.
Obviously, the ability to hit all nine shots on command puts one in the "elite" category. Any amateur who can score three or four is in great shape, while a six or better brands you as a true shotmaker.
---
Limit yourself to one attempt at each shot to replicate the feeling you get on the course, but feel free to start over after each set of nine. Next time you need that low draw into the wind, the work will pay off.