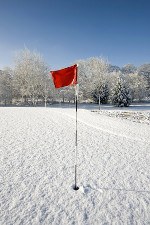 Unless you live in the Sunbelt, your opportunities to play and practice in the winter may be few and far between. But a long offseason doesn't have to put your game on ice. There are many ways to practice without going to the driving range.
---
---
Of course, many cities and towns have indoor ranges, or outdoor facilities with heated, covered stalls. That should be your first option. Lacking such a luxury, here are three great ways to keep your game in shape while waiting for the spring thaw:
Practice without hitting the ball
Some of golf's most effective drills are conducted with no ball at all. They'll help you improve and maintain balance, tempo, shoulder turn, and other key fundamentals. Here are four tried-and-true drills for winter practice: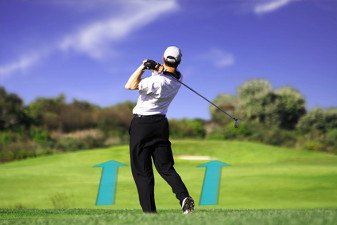 Work on your short game
Most golfers neglect the area of the game in which it's easiest to make improvement – and where most of your strokes take place. If you've got a reasonably smooth stretch of floor or carpet that simulates the speed of a putting green, use it. Practice putting to a glass, a chair leg… Any object will do.
If room (and your spouse) allows, set up an indoor chipping area. Likewise, it doesn't take much space to hit chips and pitch shots in the yard. Plus, you'll have quick access to heat when the temperatures drop.
Review your stats
If you were diligent about keeping your statistics during the past season, now's the time to review them for clues to fixing problem spots. Hitting a low percentage of fairways? Having trouble finding greens in regulation? Missing too many short putts? Your stats will tell the tale, and let you know what areas to focus on as you practice.