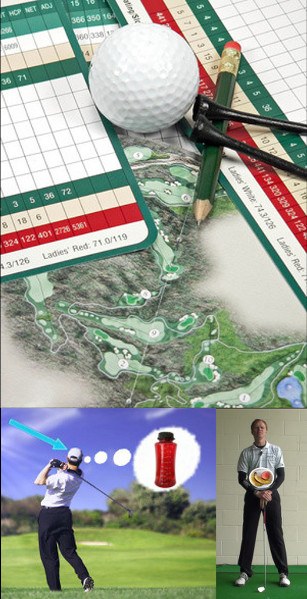 ---
---
Golfers obsess over their performance at the beginning and end of a round. No doubt, starting and finishing strong is important. But the holes in the middle count just as much.
In fact, the mid-section often marks a turning point due to the interruption—however brief—between the ninth green and 10th tee. A stop at the clubhouse can slow your momentum if you're playing well, or offer a chance to hit the "reset" button if you're struggling. Regardless of your play, beginning a new nine always carries some psychological significance.
Think of the pause between nines as equivalent to halftime in football. Assess the first half, make adjustments and, if necessary, give yourself a little pep talk. Let's look at a few ways to improve your results at the end of the front nine and the start of the back.
---
---
Set a target score for finishing the front: By the time you've completed six holes (one-third of a round), the day's swing quality has been established—you're either in a good groove, or fighting your swing. Likewise, your score is trending higher or lower than normal, or it's in line with your typical outing.

Whatever the case may be, you want to finish the front nine with momentum heading to the back, and you've got three holes in which to do it. Set a personal par for each remaining hole and a total for all three. For example, let's say you determine those holes to be playable in 2-over par. You goal is to play them in 1-over or better.

If you can meet or exceed your three-hole target score, you'll start the second nine in a positive mood regardless of your total score on the front.

Careful what you eat at the turn: A hot dog with the works sure would hit the spot, wouldn't it? Or a burger, chips and fountain soda, maybe even a brewskie? Your taste buds and belly may thank you, but you'll regret it when that fatty, carb-heavy meal hits bottom. Digesting such foods is hard work, and the energy your body expends on the effort will sap your swing and senses of strength and vitality.

Instead, have a piece of fruit and a protein bar, granola, nuts or some (healthy) trail mix. If you really need a meal, have a wrap with tuna salad or lean meat like grilled chicken or turkey, and a helping of veggies.

What you eat before and during a round can make a difference in your play. Once golf is over, all bets are off.

Conduct a quick review of your play: With nine holes in the book, a quick assessment is in order. If you keep track of stats such as fairways and greens hit, number of putts and up-and-downs, add up your front-side totals and see where you stand. (If you don't currently keep stats, you should start.) This will help clarify how you're actually playing and which part(s) of your game you need to pick up coming in.

At the turn, reflect on your best and worst shots from the first nine. Analyze what you did right or wrong in each instance, identify any course management or mental errors you made, and apply that knowledge the rest of the day.

Set a target score for beginning the back: You've gotten a bite to eat and taken stock of your front nine results. Time to attack the back. Holes 10 to 12 can make or break a round. If you've made the turn in good shape, thinking too far ahead might make you anxious. If your score isn't so good, one more bad hole may crush your spirits.

As you did for holes 7 through 9, set a target score for the opening three holes on the back. This will help you stay in the moment, an especially important task as round's end draws closer.