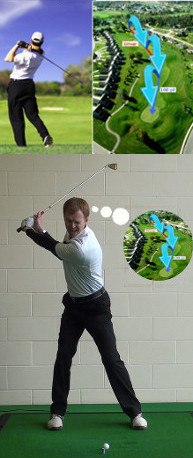 You don't want to be surprised when you start your round. When getting ready to play the first hole, you should have a good idea of what to expect. This will help you quickly settle into a good frame of mind for the day. If you start out by scrambling to come up with a plan for the first hole, you might not ever manage to find a comfortable mindset. Toward this end, it is a good idea to 'play' the first hole in your head before you actually face it in real life.
This is pretty easy if you have played a course previously. You will generally know what the first hole looks like, how long it is, and what kind of hazards you will need to watch for on each shot. With this information available, you can take a moment to visualize each shot that will take you from tee to green. Which club are you going to use off the tee, and where are you going to aim? Once you hit a good tee shot, which club will you employ for the second shot? Thinking this through clearly can give you wonderful peace of mind. The first tee jitters may fade away just because you have crafted a plan and seen it play out in your head.
In fact, you can do one better, if you happen to be playing a course that offers a driving range. During your warm up session, use a couple golf balls to hit the shots that you expect to face on the first hole. If you are going to attempt to hit a draw with your driver for your tee shot on the first hole, hit that shot on the range. Then, follow it up with the club and ball flight that you expect to use on the second shot. Go through this process a couple times if you like, until you are happy with the results.
It is a little more difficult to get yourself mentally ready for the first hole on a course which you have not played before. Without the ability to think back to your last round, you may not know what to expect. Fortunately, there are ways around this problem. For one thing, if the tee is accessible, you may be able to walk over and have a look for yourself. Of course, you don't want to get in anyone's way while doing this, so pick a quiet time and avoid actually walking up onto the tee. Just stand off to the side, look down the fairway, and picture the kinds of shots you'll want to hit. As another option, you may be able to use the internet to your advantage. If the course has a hole-by-hole description on their website, review that page so you know what will be waiting for you as your round gets started.
Visualization is a powerful tool in golf, and you can start using it before you even begin your round. Try this tip of visualizing the first hole in advance and you should feel nicely prepared to start your round off successfully. Once you are using visualization in this setting, you can expand and use it in other areas of your game as well. Whether you believe it or not, 'seeing' shots in your mind before you actually hit them can have an amazing effect on the quality of your play.