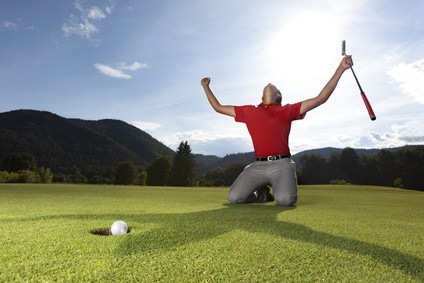 Vince Lombardi famously said, "Winning isn't everything, it's the only thing." If you take that attitude to the golf course, however, you're likely to leave feeling unhappy.
In golf, winning typically means placing first in a tournament or beating your buddies. Depending on how competitive you are, losing may sting a little, or a lot. Overemphasizing the end result can lead to in-round letdowns if you fall too far behind to catch up. It can also shift your attention onto your opponent, whose game you can't control.
That's why it's important to define winning more broadly. Give yourself plenty of opportunities for victory, and winning will become habitual.
For example, set a goal to drive the fairway on the first hole, or to hit at least two greens in regulation on the par 3s. Setting simple goals will increase your focus on specific golf shots, rather than an overall aim to shoot a specific score or outplay your rival (friendly or otherwise).
Always remember to put process ahead of outcome. Develop a straightforward, easy-to-repeat pre-shot routine and use it on every shot. That's the part of golf you can control. What happens after club meets ball is out of your hands.