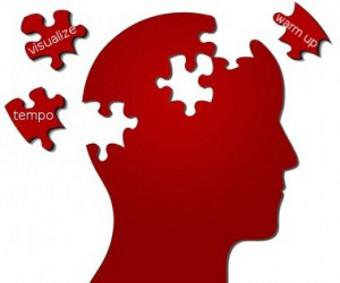 Have you ever arrived at the golf course in a rush, with no time to warm up, pulling on your shoes as you approached the first tee? You probably didn't get off to a great start, did you?
Sometimes, arriving early isn't an option. But whenever possible, give yourself plenty of breathing room before your tee time. In fact, try getting into golf mode on your way to the course.
For some people, that means listening to relaxing music. Others prefer something more upbeat and aggressive. Bottom line: Match the music with the on-course tempo and mood you play best with.
If you're the methodical type, start visualizing your round beforehand, hole by hole. Or, simply pick a few spots on the course that cause you trouble, then imagine yourself conquering them with perfect shots.
Once you've checked in at the golf pro shop, devote enough range time to get good and warm, but don't wear yourself out. Practice specific shots you'll need during the round, particularly the first tee shot.
Finally, make sure to leave time for putting and chipping. Getting a feel for your stroke and the speed of the greens is critical, especially in the early going.
Golf, for most people, is a social game.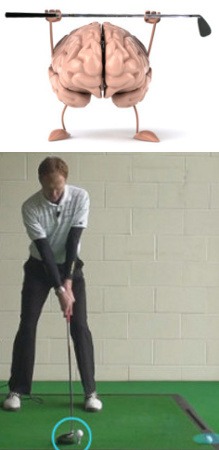 Unless you are playing on the PGA Tour, at least part of your motivation for playing golf is likely to spend time with friends. When you book a tee time, you know that you'll be spending four hours or more with your playing partners, giving you a chance to catch up and share some laughs. Many of your greatest memories in this game will involve other golfers, whether they are friends or strangers. There is nothing wrong with the social side of the game, of course, and it is a major selling point that keeps players coming back time after time.
With all of that said, you can still be serious about your game while enjoying the social aspect as well. Most golfers are competitive people, wanting to do their best each time they tee it up. In this article, we are going to talk about how you can put yourself into the right frame of mind prior to starting a round. Believe it or not, this may be more difficult for the amateur golfer than it is for the top-flight professional. At the top of the game, the golfer has just one job – focus on shooting the lowest score possible. A competitive round of golf for a professional is not a social occasion, it is a job. There is a simplicity to the fact that a pro golfer can be so singularly minded when playing this game.
You probably don't have that luxury. In addition to playing well, you also want to have fun with your friends. You want to interact, tell some stories, and generally enjoy yourself for the duration of the round. Fortunately, you don't have to pick one or the other in this case. While you might not be able to focus as intently as a top pro, you can still position yourself for a great round from a mental perspective. We hope the advice in this article will help you find a happy medium where you can play great golf and also socialize with those in your group. Let's get started!
Setting Some Goals


It is helpful to have some specific goals in mind when you head out to the golf course for a round. Are you only worried about shooting the lowest score possible? Or, do you want to make sure you have fun with your friends, while also trying to play well? As a third option, you may play some rounds where you don't really care at all about your score – you are just looking for a fun day outside. Of course, you don't have to pick just one of these categories to stay in round after round. It is perfectly acceptable – and normal – to switch from one to the other depending on the occasion.
Prior to each round, you should take a moment to think about what you would like to accomplish on the day. What kind of round is this going to be? The list below highlights a few tips you can use during the goal-setting process.
Think about your playing partners. A big part of the equation comes down to your playing partners for the day. If you are heading to the course by yourself, hoping to get paired up with some other golfers for a round, you will probably be thinking mostly about your own performance. You won't know the others in your group, so it's hard to say how much socializing you will be doing. Sure, you may chat with them, or they may prefer to keep to themselves. Anytime you head out to the course by yourself, it is likely that you will be focused on shooting a low score. This changes, however, if you are bringing others with you to the course. For example, if you are going out to play with some friends from work, you might see this as a social outing. You will hope to hit a few good shots, but you won't really care about your total score. Consider the circumstances of each round when trying to decide how you will approach the day.
Think about the course. The course you are playing for the day should have an impact on your goals. Do you know the course well, or is it your first visit? Is this a long and difficult course, or should you have a fairly easy time playing up to your potential? If you are the kind of golfer who likes to set a specific score goal for each round, take those factors into account before settling on a number. For instance, if you usually shoot in the low 80s, but you are playing a tough course, setting a goal of 85 might make sense. Of course, if you are focused on the social side of a given round, you may not want to set a target score at all.
How have you been playing recently? It is pretty easy to determine when you have been playing well, and when you have been struggling. If your recent rounds haven't been played up to your normal level, you may be in a bit of a slump. That's okay – it happens to all golfers from time to time. To work your way out of that slump, set modest goals and look for simple improvements. It is easy to get frustrated when your game isn't where you would like it, but don't allow yourself to get down. Be patient and gradually work your way back into form.
Think ahead. Look ahead on your calendar as you work on setting goals for a specific round. For instance, if you have a tournament coming up at your local club, you may want to plan your game around peaking for that competition. Therefore, it wouldn't matter so much what you shoot today, as long as you are getting your game ready to play well in the tournament. This is a common line of thinking for professional golfers and you can use it for your game, as well.
Goal setting is important in golf. Even if you only play casually and not in competitions, it is still a good idea to set some basic goals for each round. These goals will help you to stay focused over the duration of a long round, and they will motivate you to work toward continual improvement. The simple act of picking out a few goals for each round you play will go a long way toward helping you get into a 'mental groove' before arriving at the first tee.
Warming Up Properly


Most amateur golfers come up woefully short in terms of a proper warm up prior to a round of golf. You might not think that it is important to warm up before you play golf, as golf is not nearly as physical as many other sports. Unfortunately, nothing could be further from the truth. Playing a round of golf might not be the same as playing a basketball game or running in a race, but you still need to prepare both your body and mind. Professional golfers tend to use highly refined warm up routines to get ready to play each day, because they understand the importance of being at their best right from the start. The stakes aren't as high for you, but a proper warm up is recommended just the same.
Consider using some – or all – of the following tips to craft your own personal warm up plan.
Arrive with plenty of time to spare. For the average player, the warm up process usually gets off to a bad start. This is because most golfers don't arrive at the course early enough to warm up correctly before they are due on the first tee. If you hope to warm up correctly, arriving at the course roughly one hour before your tee time is a good rule of thumb. That might sound like a lot of time, but it can go quickly. When you first arrive, you'll need to get your things out of the car and put your golf shoes on. Then, you'll have to head into the pro shop to check in and pay your fees. You may need to use the restroom as well, and you might stop by the snack bar for a bite to eat. Pretty soon, you've taken up a portion of that hour, and you haven't even done anything to prepare for your round. It probably won't be possible to get to the course an hour ahead of time in all cases, but do your best to hit this mark if you want to improve your warm up process.
Hit all areas of your game. A big part of being in a mental groove before you start playing comes down to knowing that your game is ready for the challenge ahead. In other words, if you warm up all aspects of your game, you should have more confidence and optimism when standing on the first tee. Make an effort to hit some range balls, roll some putts, and play some chip/pitch shots. Dividing your warm up between these categories will prepare you nicely for the shots you are going to face on the course. It is a bad feeling to run into a certain kind of shot on the first couple holes knowing that you have not prepared for that shot in your warm up.
Spend some time thinking. This is an often-overlooked part of a good warm up plan. In addition to getting your body ready to play the shots you'll need on the course, you also want to spend a little time thinking in order to get your mind ready. What should you think about during this time? That's going to depend on you as an individual. Some golfers like to think about the course, working through their course management plan for the day. Others will think about their swing, focusing on one or two keys which they feel will lead to improved performance. Or, you may just let your mind wander, thinking about whatever happens to pop into your head. Spending just a few quiet minutes thinking before you start your round can do wonders for your focus. Find a secluded spot somewhere around the facility where you can relax for a few moments and settle in to a good mindset.
As you gain experience in this game, you will get more and more comfortable with what you need to do during warmup. Some players like to hit a lot of full shots while only hitting a few putts, and some players go in the opposite direction. There really isn't a right or wrong here, as long as you feel ready to play when standing on the first tee.