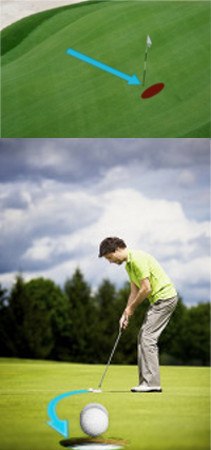 Thinking clearly about the importance of good decision making when trying to get your ball up and down. What are the 'mental fundamentals' of a solid short game? Check out the points below.
Look for the low side of the hole. When chipping up onto the green, do your best to position your ball on the low side of the hole so you will have an uphill putt to finish the job. Putting uphill is almost always going to be easier than putting downhill, since you can be more aggressive with your speed without taking the risk of racing the ball past the cup.
Don't take on too much risk. It would be great to hit every chip shot or bunker shot right up next to the cup, but that just isn't going to happen. Sometimes, playing away from the hole slightly will be your best bet. For example, if you have to chip over a bunker to a hole cut just on the other side, playing long on purpose is the smart shot. The last thing you want to do in such a situation is chip the ball into the bunker and create an even bigger problem.
Calm down. One of the most important keys you can keep in mind when trying to get up and down is the role that your attitude plays in the process. Often, golfers are annoyed while trying to get up and down, since they just missed the green with their approach shot. Obviously, you'd rather be on the green putting for birdie, so you might not be in a good mood. However, you have to set that to the side and focus on the job at hand. Calm down, refocus your mind, and play the chip or bunker shot to the best of your ability.
It is a powerful feeling to know that you can get up and down from just about any spot around the green. We hope the tips in this article will help you save strokes in upcoming rounds. Good luck!