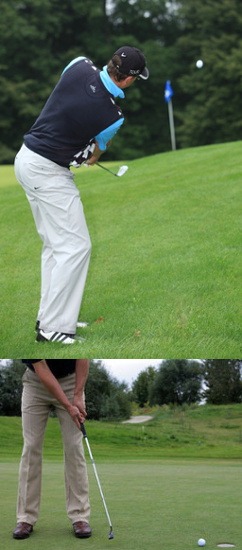 The only skills you will improve in golf are those you practice regularly. If you never practice getting up and down, it is highly unlikely that you will actually improve. Sure, it's helpful to read articles like this one on the web, but this information is only useful if you put it to use during practice sessions. In this section, we are going to outline a simple but effective practice drill to work on your up and down skills.
To perform the drill, please follow the steps below –
Find a practice green where you are allowed to both chip and putt. Many practice greens prohibit chipping, so you'll need to look around to see if any of your local courses have a dedicated chipping green. With any luck, you'll be able to find at least a couple options in your area.
For the drill itself, you will need a wedge, your putter, and a single golf ball. While you can complete this drill with any wedge, try it for the first time with your favorite chipping wedge. After you've gone through the drill once or twice with your favorite wedge, feel free to try it with other clubs.
The idea here is that you are going to play nine 'holes', with each hole consisting of an up and down attempt. To start, simply drop your ball somewhere around the green and pick out a hole to use as your target. Play the chip shot up toward the hole, switch to your putter, and finish out. Par for each hole is two, as a score of two would represent a successful up and down.
Continue on with the drill, one hole at a time, until you have completed nine holes. The key to making this drill as useful as possible is to vary the shots that you are forced to play. Some chip shots should be uphill, and some should be downhill. Some should be played from a clean fairway lie, while others should be played from the rough. Add as much variety as possible to increase the difficulty and to make this drill as similar as possible to what you will find on the course.
Some simple math will tell you that the overall par for this nine hole drill is 18. However, it should be noted that achieving a score of 18 will be extremely difficult. If you fail to get up and down even just once, you'll need to chip in to get that stroke back. Keep track of your personal best score and work on achieving lower and lower scores moving forward. This is also a great drill to do with a friend, as you can have a little competition for the lowest score.