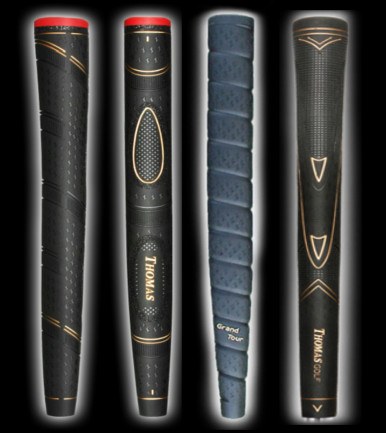 These days, there are nearly as many grip styles as there are irons, woods, hybrids and putters. Just like choosing clubs that feel good and fit properly, it's important to pick the right grips.
---
First of all, grips – just like clubs – come in different sizes. If you have especially large hands, oversize grips will prevent the hands from becoming too active in your swing. Conversely, players with small hands can go with undersize grips, which will give the hands more freedom. (Thomas Golf's free clubfitting service can help you choose the right size.)
Grips are available in a variety of materials and surfaces, too. Each type has its benefits, and typically a potential drawback or two. In recent years, manufacturers have begun offering grips aimed at players of different skills and swing speeds – just like shafts and clubheads.
Here's a quick look at a few common grip types:
Rubber/synthetic rubber: The choice of most golfers, these grips provide good tackiness when new/clean, as well as quality feel and feedback from the clubhead through the shaft and into the hands. Some rubber grips are softer, others firmer, to promote enhanced feel based on a player's preferences.
Cord and half-cord: As the name implies, these grips have thin strips of cord imbedded in the rubber, which makes them extra absorbent and effective in wet or humid conditions. Cord grips have a rough texture that can damage sensitive hands, and they tend to feel quite firm. Half-cord grips feature cord around half the grip (usually the underside) and make a less abrasive alternative to full-cord models.
Leather: The material of choice decades ago, leather is used only by specialty manufacturers today. Leather grips are pricey, but provide a distinctive look and comfortable feel.
Synthetic leather: Looks and feels a lot like the real thing, without the expense. Also very shock-absorbent, a nice plus if you tend to hit thin shots.