---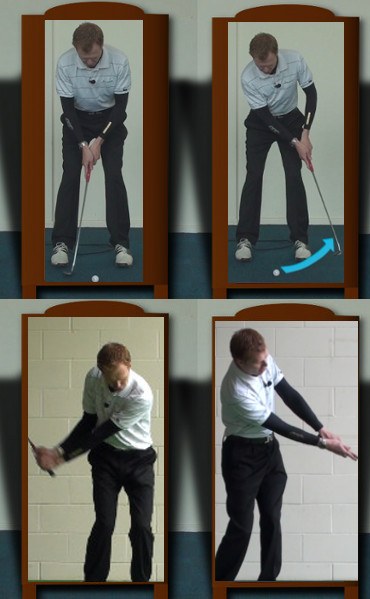 It is easy to forget about your short game when standing on the driving range working on your full swing technique. The short game is often overlooked by the average amateur, which is why so many players struggle with their putting and chipping. If you are going to get better in this crucial area of the game, you need to practice it regularly. In addition to the practice routines that you normally use for your putting and chipping, you can use mirrors in this area of the game as well. Getting into the right stance prior to rolling a putt or playing a chip is incredibly important. There isn't enough time during these shots to make up for mistakes you might have made when building your stance – you need to get everything right immediately from the start. Using mirrors will make it easier to do just that.
So what should you be looking for in your short game stances when using a mirror? As was the case with the full swing, you can use both the down-the-line and face-on angle to evaluate the status of your address position. Below, we have listed two separate collections of points for you to watch for when taking short game stances – one list for putting, and one for chipping. Keep these points in mind as you practice to give yourself the best possible chance of success. First, the putting list –
Just as was the case with the full swing, you should check on your balance in your putting stance. You don't want to let your body move at all from side to side while making your stroke, so it's critical that you start nicely balanced.
Using the down-the-line mirror angle, make sure your arms are hanging freely from your shoulders. They should not be reaching out or cramped in to your body – you should see a nearly straight line formed by your arms from your shoulders down toward the ground.
Use a face-on reflection to get a good look at your ball position. Most players are going to find the best success on the greens when placing the ball just slightly forward of center in their stance. However, that is not a fundamental which is set in stone, so feel free to experiment as necessary until you land on a ball placement that leads to great results.
Moving back to the down-the-line angle, look at the positioning of your eyes in comparison to the golf ball on the ground. Ideally, your eyes will be just inside of the location of the ball. If your eyes are way out over the ball, or if they are way too far inside, adjust your stance as necessary.
And now, we move on to the chipping list –
It is a great idea to chip from a slightly open stance. Use the down-the-line view to make sure your left foot is farther away from the target line than your right foot.
You want to set your hands in front of the ball when playing most chip shots, so use the face-on view to confirm that you are hitting on this fundamental properly. The only time this would not apply is when you want to play a particularly high shot, such as a flop shot.
Many players stand over their chip shots without enough flex in their knees. To avoid this costly mistake, view your stance from the down-the-line position to make sure you are settled into an athletic position which will offer you plenty of feel for the shot at hand.
It might not seem like it at first, but mirrors are a natural practice partner for the serious golfer. Instead of taking the time to record your stance on video and then watch it back later, you can just see how you are doing right there in real-time. Once you get comfortable with how you can view your stance in a mirror, it will be easy to learn from this tool time and time again. As long as you can find a driving range in your area which offers a mirror, you'll be ready to put the advice offered above into action. Good luck!