Strategy Plays a Role to Hitting Long Drives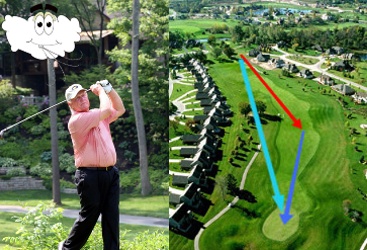 When you think about driving distance, you probably think about just walking up to the tee, pulling your driver from the bag, and taking a big swing. That's one way to go about it, but it's probably not the ideal option. If you are willing to think more strategically when using your driver, you might be able to find a few more yards without having to make any swing changes.
Consider the tip techniques listed below.
Take advantage of the wind. This isn't a surprising tip, but you should look to take advantage of a tailwind when you have one behind you. Of course, this will only work if you have the necessary room down the fairway to let the ball run. In order to take advantage of a favorable breeze, tee the ball slightly higher than usual, and move the ball up in your stance slightly. Be sure to stay back as you swing down through impact, creating an upward swing path that should launch the ball high into the sky. Not only will a helping wind usually add yards to your drives, but it may even straighten out your ball flight as well.
Take advantage of the turf. Just like you can play your drives to use the wind, you can do the same thing to use the turf when conditions are right. If the turf is hard and fast, hit lower tee shots and let them reel up the yardage as they bounce and roll along. This is a particularly good strategy when playing tee shots into the breeze. Again, you'll need to make sure the ball has room to safety run out before you employ this technique.
Cut corners. Sometimes, you'll be able to get closer to the target simply by cutting a corner instead of trying to actually hit the ball harder. For instance, if you have an opportunity to cut a dogleg and still reach the fairway, doing so may set up a short approach into the green. This type of shot usually carries some extra risk, however, so think it through and be sure the risk you are assuming is worth the potential reward.
Without a doubt, it's great fun to launch a powerful drive down the middle of the fairway. You'll love the way the ball feels coming off the club, and you'll also enjoy the looks you get from other players in your group. We hope the tips in this article will help you hit some of your best drives in upcoming rounds. Good luck!