Short Game Up and Down Techniques
---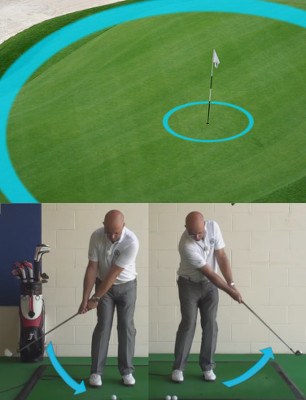 For most golfers, the goal is simple when playing a short game shot from just off the side of the green – get the ball up and down. Of course, 'up and down', in a golf context, means to use two total shots to get the ball into the hole from its current location. However, what if you could do one stroke better? Sometimes, when your ball is close to the green, you can forget about up and down and simply try to make the first shot. There are few feelings in golf better than the one you will have while walking up onto the green to take your ball out of the cup – with your putter still resting comfortably in the bag.
If you are thinking about making the shot at hand, you want to chip. Chip shots roll out like putts when they are getting toward the end of their journey, and that roll is exactly what you need to give the ball a chance to fall in. If you hit a spinning pitch shot, the ball will bounce a couple of times before stopping quickly – there won't be much of an opportunity for the ball to drop. Sure, it could happen, but such an occurrence would be rare. If you hit a nice chip shot with plenty of roll, you can take the ball up to the cup just as if you were putting. As long as the line and speed match up nicely, you may see the ball disappear for a thrilling chip in.
The decision regarding whether to chip or pitch from a specific location around the green is going to come down to a combination of practical analysis and personal preference. We hope the advice provided in this article will point you in the right direction as you develop your own style of decision making in the short game. The goal is always the same – to pick a shot which gives you confidence and gives you a chance to leave the ball close to the hole for an easy putt. Blend plenty of physical practice with some solid course management and you can get up and down on a regular basis. Good luck!