---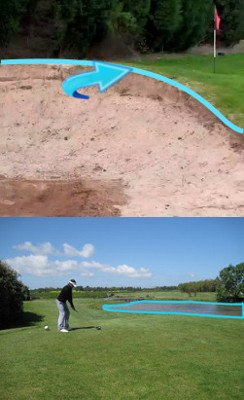 All bunkers are not created equal. When deciding how you are going to play your tee shot on a hole with a center line bunker, one of the keys is to evaluate the bunker and decide how much of a punishment it would be if your ball found the sand. Sometimes, you need to take great care to avoid these kinds of bunkers – other times, however, they really aren't too bad.
So, how do you know when you can afford to be aggressive around a bunker, and how do you know when to be extra cautious? Watch for these points.
Low lips. If a bunker has low edges all the way around, you can be confident that you'll have a clean path out of that bunker if you do happen to find it off the tee. As long as you are fortunate enough to draw a good lie, it should be possible to escape in a single swing – and you might even be able to knock the ball up onto the green. Of course, in the opposite case, where you have a deep bunker with steep sides, you'll want to be sure to steer clear of the sand. Winding up in this kind of bunker is going to make it very difficult to make a par – and you might even struggle for bogey.
Up near the green. Sometimes, the center line bunker you encounter will be in the middle of the fairway on a short par four. If that is the case, it may be true that the front edge of the bunker is only 10 or 20 yards from the front of the green. In such a situation, you may decide that simply blasting your tee shot up toward the green is a good idea, even if you do have to play your second shot from the sand.
Avoiding another obstacle. It is entirely possible that the bunker placed in the fairway is not the biggest concern you are facing off the tee. For instance, there might be water off to one side, or there might be deep rough if you miss the fairway. In these cases, it will be worth playing closer to the bunker, even if you do wind up in the sand. Weigh all of your options and pick the one that you think will give you the best results on average.
The center line bunker is a great way for a golf course designer to add some interest to what would otherwise be a pretty simple hole. Just the addition of one bunker – even if it is not a big one – can totally change the complexion of the hole and it will force you to make a tough decision. Hopefully, with the information we have provided in this article, you will feel prepared to make a smart choice next time you play this kind of hole. Good luck!