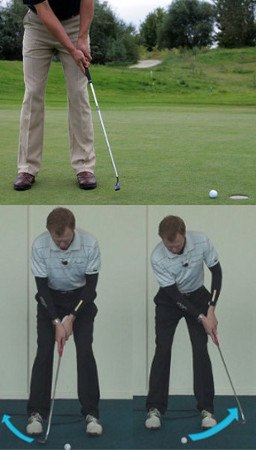 Saving strokes on the greens is crucial for a successful round of golf. Here are some techniques to help you improve your putting and increase your chances of sinking more putts:
Read the Green: Develop the ability to read the slope, contours, and grain of the green before making your putt. Take your time to analyze the putt from different angles, crouch down to get a lower view of the line, and consider how the slope might affect the ball's roll. This will help you determine the correct line and speed for your putt.
Accelerate Through Impact: When putting, it's important to maintain a smooth and accelerating stroke through impact. Avoid decelerating or hitting at the ball. Focus on keeping the putter moving smoothly and accelerating as you strike the ball. This will help promote a consistent roll and reduce the chances of leaving putts short.
Practice Distance Control: Spend time practicing your distance control on the putting green. Develop a feel for how far back you need to take the putter for different distances and work on consistently hitting putts the desired distance. Distance control is crucial for leaving yourself shorter, more manageable second putts, and minimizing three-putts.
Develop a Pre-shot Routine: Establishing a consistent pre-shot routine can help you get into a focused and confident mindset before each putt. This routine could involve aligning the putter, taking a practice swing, visualizing the putt, and then stepping up to address the ball. A routine helps eliminate distractions and promotes consistency in your stroke.
Practice Visualization: Before striking your putt, visualize the ball rolling along the intended line and dropping into the hole. Visualizing success can boost your confidence and help you commit to the putt. Use your imagination to see the ball's path and focus on executing a smooth stroke to match your visualization.
Stay Positive and Committed: Putting requires mental fortitude, so it's important to maintain a positive mindset and stay committed to each putt. Avoid dwelling on previous missed putts and focus on the current opportunity. Trust your read, commit to your line, and stroke the ball with confidence. Doubt and hesitation can negatively impact your stroke.
Practice Putting Under Pressure: To simulate the pressure of making important putts during a round, practice under more challenging conditions. Set up drills that involve putting to different holes from various distances and keep track of your performance. This helps build your ability to perform well when the pressure is on during an actual round.
Remember, becoming a proficient putter takes practice and patience. Regularly dedicating time to improving your putting skills and implementing these techniques will help you save strokes and become more confident on the greens.
While discussing chip shots and bunker shots, we are only dealing with half of the equation. In this article, we are going to look into getting the putt 'down'. In other words, we are going to talk about how you can make more putts to complete the up and down process as frequently as possible. There are few things in golf as frustrating as hitting a beautiful chip or bunker shot only to miss the putt and ruin your chance at a save.
Since you will hopefully have knocked the ball up close to the hole with the first half of the up and down effort, the tips below are going to be focused on short putts. During your next practice putting session, keep these fundamentals and techniques in mind.
Overall head stability. When discussing chipping fundamentals, we talked about the importance of keeping your eyes focused on the ball during the swing. That same concept applies here too, of course, but we want to take it a step further. When hitting putts – especially short putts – you want to keep your head perfectly still throughout the stroke.
Keeping your head still when chipping is a good idea as well, but it's particularly important when trying to knock in a short putt. The key here is accuracy, and keeping your head in the same place throughout the stroke is going to help you be more accurate in the end.
Perfectly quiet hands. In addition to keeping your head still, you want to keep your hands and wrists still as well. Are you noticing a theme? That's right – good short putting is all about stability and consistency. When you can produce the same motion every time, over and over again, you will make more putts. And the best way to be consistent with the motion you produce is to take as many moving parts out of the equation as possible.
That means rocking the putter back and through with your shoulders while keeping everything else still. This is a hard concept for many new golfers to grasp, but it is a powerful method once you learn how to make it work.
Short backstroke. This is fundamental which is specific to making short putts. One problem many golfers run into when putting from short range is making a backstroke which is too long for the putt at hand. There is simply no need to make a long backstroke, and if you do, you'll need to slow the putter down on the way forward in order to apply the right speed to the putt.
It should be noted that there is a difference between making a short backstroke and making a quick stroke. You don't need to rush through the stroke, but you don't need to let the putter head drift way back away from the ball, either. Keep the stroke tight while also taking your time to let it rock back and through. Once you settle into a nice rhythm, you should be able to pop your short putts into the cup one after another.
It feels good to knock a three-footer into the hole after hitting a quality chip shot from a difficult position. Not only will you have saved yourself a stroke (or two), you will also pick up a boost of confidence moving forward. You'll know that missing the green doesn't automatically mean a bogey or worse and that knowledge will take some of the pressure off of your long game. Also, if you are able to improve your short putting, you will be more likely to make short putts for birdie when those opportunities come around.