Top 5 Tips On Fat Shots Driver, Irons and Putter
Fat shots in golf are also referred to as "hitting heavy" or making contact with the ground first. Fat shots can be very minor or extreme, with varying results. With golf, the ideal impact is with the ball first and the ground second. Achieving this consistently can be very difficult, but with some work it can change with fat shots occurring less.
Golf is not a game of perfection and even the best players in the world hit the ball heavy. Fat shots can occur due to a variety of different reasons like a lack of concentration, early release of the club, improper weight shift, slip of a foot, clubs not fit for you, uneven lies and swaying and sliding. The list of flaws and causes can be long and it doesn't take much to hit a shot fat. Golf is a game of inches and in the case of fat shots, we're talking ¼ of an inch. Hitting fat shots is a part of the game and we will always fall victim to them. However, we can definitely decrease the likelihood of hitting them.
Fat Shots can happen with any club in the bag. The most common clubs are the wedges and short irons while the Driver and putter are less common. The leading edge of most wedges and short irons are much sharper than long irons. These clubs are actually designed to cut through grass and turf, so any swing contacting the ground first will cause a dramatic fat shot. However, since a driver is teed up and a putter needs a softer swing, it's much less likely to strike the ground first.
The following tips are quick checks or fixes that could dramatically assist in correcting fat shots.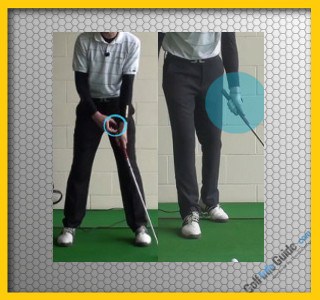 ---
If you tend to hit many fat shots especially with your longer irons or woods, it may be because the clubs are too long or at an uncomfortable length. Over the years, golf club manufacturers have added length onto your woods, especially the driver. The purpose of this length is the assumption that it creates more distance on golf shots. This is true, but many golfers have a hard time adapting to it. The easiest and quickest way to account for this increased length of your driver and woods is to choke up on the grip approximately 2 inches. Without changing anything to your swing, this should help in shortening the club and hitting solid shots.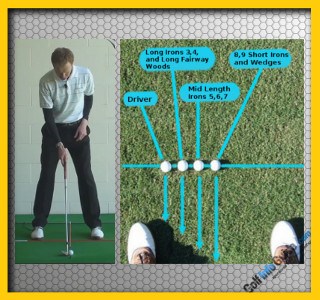 Tip #2 Check Your Ball Position
---
We often see fat shots occur when the ball position is too far up in the stance. This is very apparent with short irons and wedges. The correct ball position for a short iron is just slightly ahead of center. However, the stance will be narrower than a driver or long iron. We should have a stance that's no wider than shoulder width. This will allow for the proper angle of attack and crisper wedge shots.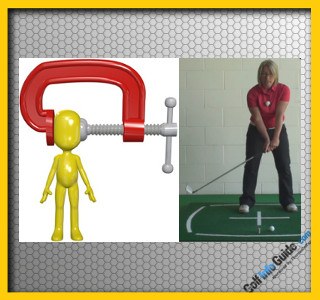 ---
Fear causes many anxieties, but in golf it can cause fat shots. How often are we faced with shots over a bunker or water hazard and we hit it heavy? For many it's very often. Generally speaking, our fear of failure is the root cause. This anxiety creates tension. The club gets released too early causing us to hit the ground first and the ball sails right in the hazard. Confidence will overcome fear every day. In your practice, envision hitting shots in high stress situations. Hit pitch shots over a bunker or use your imagination to see a giant water hazard in front of you. If you see success, then your confidence rises. Many professional golfers practiced making shots as if they were playing for the U.S. Open. Be confident in your practice and your fear on the golf course will not be a factor.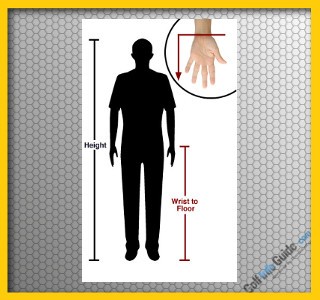 ---
When you bought your last set of clubs did you get them custom fit? If you are hitting fat shots, it's more than likely the clubs don't have the correct lie angle or weight for your swing and body. If the heel is striking the ground first, it means your clubs are too upright. If the toe strikes the ground first, it means your clubs are too flat. If the club feels too heavy, it likely means your shafts are not the proper weight for your swing speed and body physique. It's imperative to get your clubs custom fit. It allows you the best chance to have your clubs perform properly for your swing.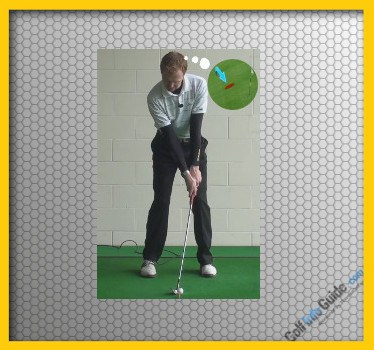 ---
This is a quick tip. Fat shots are mainly caused because of indecision over club selection. Stay in tune with your first instinct and be decisive. A wrong club and decisive swing will always perform better than the right club with an indecisive swing.