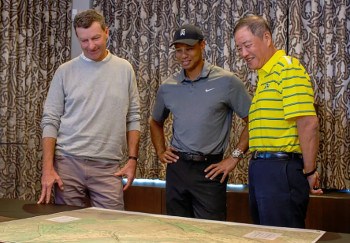 When you think of golf course design, Gil Hanse may come to mind. Hanse is one of the most famous golf course designers of modern times and he will soon be teaming up with the greatest golfer in the history of the game to create a special experience on the coast of Hawaii. Tiger Woods and Gil Hanse will work together for the first time in the near future to make this dream plot of land into a golfer's paradise. This came as a pleasant surprise to the golf world. The 36 hole golf course is set to be laid out on the magnificent Makaha Valley in Oahu, Hawaii. From the course, you will be able to see the ocean and the Wainee mountains, making it an incredible experience for all. Tiger Woods is set to design the North Course while Gil Hanse will be designing the South Course. The purpose of the project is to create a beautiful and unique course that will be playable for all skill levels.
Gil Hanse has an impressive track record when it comes to course design so it makes sense that him and Tiger would get together for this project. Since Gil started Hanse Golf Design in 1993, he has been part of dozens of original design projects and renovations. Among his long list of accolades, Hanse was chosen to design the Olympic Course for the 2016 Summer Olympics, which would be the first time golf would be a part of the Olympic games since 1904.
Most people wouldn't expect Tiger Woods to begin designing courses before his incredible playing career came to an end but he has actually been working on golf course design for a while now. TGR Design, which is lead by Tiger Woods, already has ten courses under their belt, including the newest project in Hawaii that has yet to have an opening date set. His design company renovates and creates golf courses all over the world. For example, TGR Design will oversee the renovation of two golf courses in Chicago, Jackson Park and South Shores.
Tiger Woods recently discussed the upcoming project in a press release, "The cathedral-like setting of the property is framed with big ocean views to the west and towering mountains to the east… We are designing a golf course that will take advantage of this spectacular setting, yet still be fun and playable for golfers of all abilities." I know I'm not alone when I say, I'm excited to see how this course will turn out.