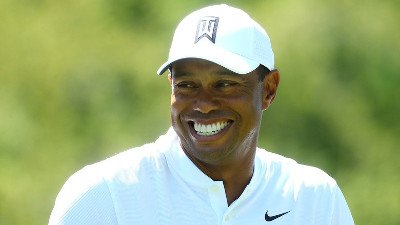 Eldrick Tiger Woods, arguably the greatest golfer and most successful athlete to ever live, has just won his 15th major tournament and fifth green jacket. At 44 years old, he proved that he still has what it takes to compete with and beat the young players that he inspired to be great. At just five years old Tiger was shooting close to par on 18 hole golf courses and competing in tournaments against kids much older than him. This brought him popularity at a young age along with various TV appearances and interviews. As he progressed through life, he lived up to the high expectations set by his father Earl Woods. Tiger started dominating ameatuer golf early by becoming the youngest U.S. Ameatuer Champion ever. He continued on to win three in a row, the last one being in a clutch playoff. After attending Stanford University for two years, he left school to become a professional golfer on the PGA Tour and he never looked back.
When Tiger Woods became a professional golfer at the age of 20 in 1996, everyone already knew that he would be something special. It didn't take long for Tiger to pounce, he won his first tour event that year at the Las Vegas Invitational which would be the beginning of the 'Tiger Effect.' By the time the 1997 Masters came along, Tiger was unstoppable. He won the tournament in a dominating fashion that had never been seen before in golf and set the scoring record for 72 holes by shooting -18. This was a monumental moment for the game of golf as a 21 year old Tiger became the youngest player to ever win a Masters. He also set the record for largest difference between winner and second place with 12 strokes between him and Tom Kite. This was just the beginning.
From 1997 through 2009, Tiger dominated golf in a fashion that we may never see in sports again. During this stretch, Tiger was number one on the money list for nine of the 13 years. He accumulated $75,429,893 in tournament winnings throughout and captured 69 wins, fourteen of those being majors. One of the most ridiculous stats that shows his one of a kid excellence is the fact that he was first in scoring average from 1999-2009 and never had an average above 70. To dominate your given sport for a decade straight is unbelievable. Tiger made people of all ages want to pick up a golf club and head out to their local course. He inspired and crafted many of the players he is now competing against all these years later.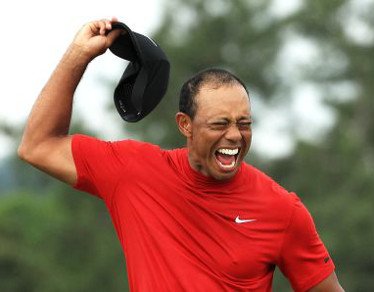 Of course, you cannot summarize Tiger's career without the downfall. At the end of 2009, news broke that Tiger Woods was reportedly having an affair with a nightclub owner. Soon enough, over ten women came out to admit that they had relations with the married superstar at some point. This lead to a dispute between Tiger and his wife that ended in her swinging a golf club at his SUV and Tiger crashing into a tree in their yard. It seemed like this could be the end for Tiger as he soon announced an indefinite hiatus from the game. The sponsors were running off and Woods was down and out. He would soon enter rehab for sex addiction and begin working on himself. He needed to get healthy and make major changes to his game if he ever wanted to compete again. During the stretch between 2010 and 2017, Tiger only won eight times. All eight of them came between 2012-2013. After the 2013 season, Tiger was battling back and neck pain and it got to the point where everyone had written him off. It seemed that the legacy was over.
Before the 2019 season, Tiger Woods last major victory was at Torrey Pines in 2008. This victory was extremely special because Woods was suffering from a partially broken leg and ACL tear. He spent the entire tournament gingerly walking on his injured left leg and it looked like he could give in at any moment. He grinded through the four rounds and magically gave himself a fifteen foot putt to tie Rocco Mediate and send it into an 18 hole Monday playoff. In true Tiger fashion, he sank the putt and beat Rocco the next day. His grit and perseverance in this tournament showed us just how special he is and 11 years later, he's doing it all over again.
Now let's jump to the 2018 season. It's been five years since Tiger has won a tournament but things are starting to change. Tiger is playing well but cannot seem to string four days of solid golf together, he doesn't seem to have the killer instinct he used to have. The turning point for the greatest comeback in sports history came at the 2018 Open Championship at Carnoustie. Tiger Woods was in the lead on Sunday with eight holes left to play. It looked like he could do the improbable by winning another major tournament. He would come up just short to Francesco Molinari, who would become Italy's first major winner. This tournament proved that Tiger still has what it takes to be a major champion and would end up foreshadowing his success in the near future.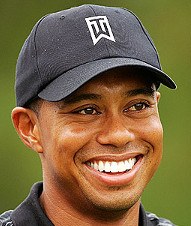 Heading into the Tour Championship of the 2018 PGA season, Tiger still hadn't captured a win but he came in second twice and top 25 a dozen times as well. The thought on everyone's mind was, if Tiger continues to play well during the off season, he might be able to come into 2019 and pick up his first win in years. Instead, TIger decided to get that win out of the way before the season ended. He won the 2018 Tour Championship by two strokes, shooting and easy 71 on Sunday. It completed to greatest comeback in sports history and opened our minds to the possibilities of the future ahead. All the people who wrote him off had no other option but to accept that he was back. This past winter, the golf world pondered how many more victories Tiger could get and wondered if he could possibly win another major.
Leading up to the 2019 Masters tournament, Tiger had achieved one top 10 and three top 25s. Not a bad few months for the 44 year old but not the results we were all hoping for as he was yet to capture a win. Woods had 12-1 odds of winning The Masters heading into it. From the beginning, we all knew he had a chance. After the first round, Tiger was right where he likes to be at Augusta, two under par and playing smart golf. He would follow up with a 68 on Friday and a 67 on Saturday, leaving him in the final group on Sunday with a chance at a fifth green jacket. The impending rain storm coming to Augusta National forced Augusta to make a decision that has never been done before, to play early in the morning with threesomes and split tees off of holes one and 10. The players in the final group would be, Tony Finau, Francesco Molinari, and Tiger Woods.
This tournament was nothing short of dramatic. Going into Sunday, it was not clear who would win and there were a handful of players that would be capable of playing lights out and winning it all. The players outside of the final group with a chance to win included Brooks Koepka, Dustin Johnson, Xander Schauffele, Jason Day, Webb Simpson, Patrick Cantlay, and Rickie Fowler. If that wasn't enough, Tiger was up against Francesco Molinari in the final round of a major for the second time in a row. After the front nine it was still anyone's major but not for long. Finau and Molinari both dunked balls into the water on 12 and didn't have the same magic they carried early in the week.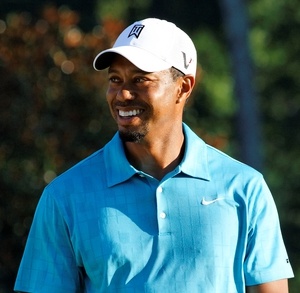 Tiger ended up shooting a smart two under par round of 70 while "plotting" his way around the course. He made sure not to make any costly mistakes and only needed a bogey on the last hole to win it all, which is exactly what he did. A two foot putt for bogey followed by the biggest double fist pumps of the Big Cat's career, closed the door for the 2019 Masters Tournament and opened the door for the next chapter of Tiger's career. He made his way off the 18th green and embraced his son. Memories of the '97 Masters flashed in our minds as Tiger held his son in the same place he and his father Earl had hugged in joy after his first major win 22 years earlier. As tiger was quoted saying, "It feels like I've come full circle…" The 2019 Masters will go down in history as one of the greatest sporting events of all time if not the absolute greatest.
Tiger Woods once again has a chance at a season grand slam and could begin another streak in his mid forties. Next month, we will see the PGA Championship played in May at Bethpage Black. Tiger won a U.S. Open on this course in 2002 so he will be a favorite heading into this tournament. After that, the U.S. Open will be played in the middle of June at Pebble Beach. Tiger Woods won the 2000 U.S. Open at Pebble Beach by 15 strokes and was the only player under par in the entire field. This was the first time a U.S. Open winner was double digits under par. These facts give us all hope that he will be in contention on Sunday of that tournament.The last major of the year will take us to Royal Portrush for the Open Championship. This course hasn't hosted the Open Championship since 1951 so it's anyone's tournament. The 2019 season is shaping up to be an incredible one and the possibility for Tiger to make sports history is at an all time high.