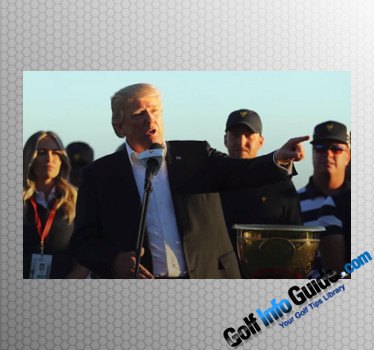 President Donald Trump delivered a speech at the Greenbrier Resort last Tuesday (July 3rd), at the Salute to Service dinner. The Greenbrier Resort is known for hosting a very special PGA Tour event during 4th of July week, a Military Tribute respectively, and we all know how fond Trump is to our armed forces. In his speech, the POTUS thanked the men and women of the US armed forces for their service, but he did not forget to praise a number of PGA Tour Pros in the audience, including Keegan Bradley, Phil Mickelson, Bubba Watson and John Daly. President Trump said that he likes Phil, and he believes Phil likes him, or something along these lines. The thing is, over the years, President Trump (then just a real-estate mogul billionaire) played with numerous LPGA and PGA Tour pros, and it's quite obvious he knows them well and vice versa. During his speech at the Greenbrier Resort, the Donald praised Tour pros mental and physical fitness using his trademark parlance. Here's a quote:
"These are unbelievably talented people. They're talented in their mind and in their body. Their muscles are strong but their mind has to be stronger. It's tough. And these are tough people."
4th of July week is a big test for President Trump, as he'll have to nominate (on July 9th) a new judge for the Supreme Court of the United States, following Justice Kennedy's retirement. However, he promised he'll spend the weekend at the White House watching the 2018 Military Tribute at the Greenbrier. Trump said:
"I'll be sitting home at the White House, and I'll be watching and saying 'I wish I could play like that.'"
Incidentally, President Trump is good friends with Jim Justice, the current governor of West Virginia and the owner of the Greenbrier Resort. The POTUS is currently receiving a lot of flak from the mainstream media for his zero tolerance policy with regard to families seeking asylum in the United States at the Mexico border.