Galvin Green entered the premium golf equipment business almost three decades ago, and the good news for today is that the company just revealed their Part 2 range of golf clothing, as per their Autumn and Winter 2018 collection.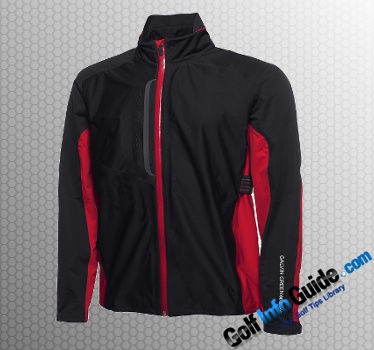 The 2018 Part Two Collection features Galvin Green's softest ever waterproof-jacket, a new ladies collection and a richer Interface range. There are 270 brand new garments in the brand spanking new 2018 Part "Deux", the vast majority being new to the market and featuring top quality styling and state of the art fabric technology. As usual, Galvin Green is the definition of premium clothing, designed by golfers for golfers. Basically, the entire product catalog was updated by Galvin Green, which by the way is the official sponsor and supplier of the European Ryder Cup Team 2018. The new product range includes a fresh multi-layer collection, that consists of seventy six different models, for fashion conscious golfers out there. To quote Galvin Green CEO/Managing Director Christian Nilsson explaining the rationale behind the company's completely revamped catalog:

"No previous Galvin Green collection has come close to presenting so many genuinely new garments and distinctive styles at one time. Once again, we're offering golfers the best layering options, so they can play the game in the most challenging conditions."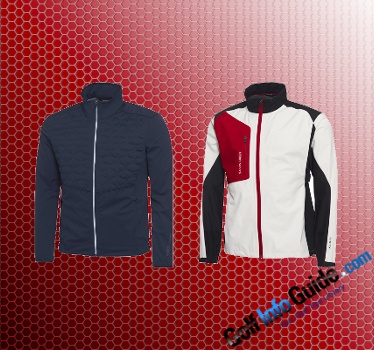 The 2018 Part Deux Collection boasts new colorways, which include Lemonade, Beluga, Snow and River Blue, all in the Men's range. The Ladies' collection has Sea pine, Rose, Cherry, Misty green and Crystal pink. As usual, the sizes are very "inclusive", as they range from XXS to 5XL, while a number of award-winning standard and waterproof golf trousers are available in no less than twenty six different sizes. There's a grand total of twenty six accessories, the likes of snoods, waterproof hats,cold weather gloves and belts. Basically, there's something for everyone in Galvin Green's 2018 Part Two Collection, provided you can live with the price tag.
Let's take a closer look at Galvin Green's Al Waterproof Jacket, which is built using Stretch Gore-Tex fabric. This peculiar choice of materials is due to this particular fabric's lightweight, and, on top of that, Galvin Green used a brand new waterproof membrane, incorporated into the C-Knit backer. This membrane offers twenty five percent more breathability compared to older generations, together with an incredibly smooth and soft texture, thus making for Galvin Green's Al Waterproof Jacket to be the best piece of golf gear for players seeking for the ultimate freedom on the golf course. All these features also make for the Al Waterproof Jacket to be the most breathable and softest waterproof jacket ever manufactured by a brand which is world-renowned for its long-lasting outerwear garments. This jacket features no less than three layers, and comes with the company's proprietary 'slide & glide' backer, for running smoothly over underneath garments. On top of that, the jacket has a rubberized collar edge, designed for keeping you dry in harsh weather conditions. Furthermore, the jacket boasts a spring loaded zipper puller, together with water repellent zippers. The sleeves are designed for promoting easy movement during your swings, while the cuffs are built with a touch and close fastener system. To further increase comfort on the golf course, the Al Waterproof Jacket has an elastic drawstring at the hem, together with chest adjusters and a repositioned side seam. This top-of-the line jacket is available in 4 attractive colorways, in sizes ranging from S to 3XL and incorporates piping along the collar, a chest pocket and tonal branding.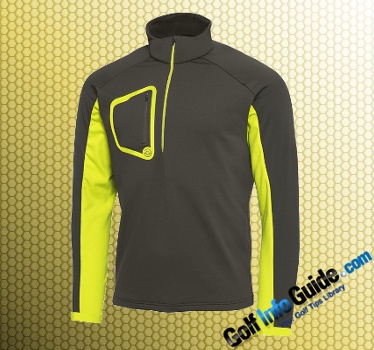 In their new collection, Galvin Green replaced their long standing and hugely popular ALF line with the new AXEL waterproof trousers, built using state of the art Stretch GORE-TEX® fabric and featuring a C-KNIT® backer available in 2 colorways: Navy and Black. These babies boast 2 back/front pockets with fleece lining, and, on top of that, a split inseam to improve abrasion resistance. Both the waist and drawstrings are elasticated in order to ensure an ideal fit, together with a zipper fly opening and and adjustable leg width. The new AXEL trousers are available in short/standard/long-leg lengths and sizes up to 3XL.
Finally, in the Shell Layer category, we have the ARTHUR trousers and the ANGELO full-zip jacket, which are part of Galvin Green's ultra-lightweight GORE-TEX® Paclite® Technology range. The ARTHUR trousers are available in 3 colorways and no less than twenty two sizes, while the ANGELO comes in 4 colors.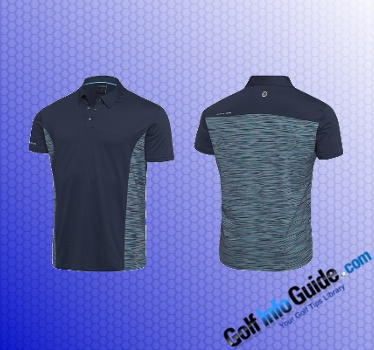 Galvin Green's 2018 Part Two collection includes a larger Interface range, as I previously told you, with the hugely popular Hybrid layer INTERFACE-1™ range now being extended to 5 different tops, in sizes up to 3XL. The extremely breathable and totally windproof Interface range now features a new line of windproof trousers, LEO respectively, and a full zip body warmer, boasting the company's proprietary and incredibly soft PRIMALOFT® padding.
The LUKE full zip jacket is designed with partial PRIMALOFT® padding, front pockets, elasticated cuffs and hem and a spring loaded zipper-puller. The jacket is water repellent and amazingly soft, breathable and stretchy. There's also an improved and expanded INSULA™ LITE range in the Galvin Green 2018 Part Two collection. The INSULA™ LITE range is composed of 10 comfortable and very warm and snug-fitting pullovers and layer jackets, and it includes the DIEGO, which is a half-zip pullover, aimed to deliver comfort and styling in 4 color combos. The MERWIN is part of the company's brand spanking new lightweight VENTIL8™ PLUS range, making for an elegant short sleeved shirt which offers amazing levels of moisture wicking properties and breathability. Keep in mind that the MERWIN is just 1 of the 4 models available in the VENTIL8™ PLUS range of the Galvin Green 2018 Part Two collection, which comes in a multitude of color options and designs. The same technology and fabric is employed in the new NEVAN trousers, which are incredibly breathable and incorporate thermal technology, together with a dirt and moisture repellent.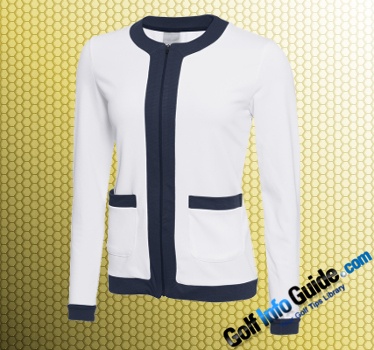 Finally, there's the new Ladies' collection, which is led by the ALEXIS full zip jacket, manufactured using state of the art Stretch GORE-TEX® fabric. ALEXIS is a very soft and quiet 3-layer jacket, with a 'slide & glide' C-KNIT® backer, and it's available in Black and Cherry colorways, featuring adjustable cuffs and waist width, shaped sleeves for ease of movement, an elastic drawstring at the hem, disguised front pockets and a newly designed side-seam for improved comfort. The jacket also comes with water repellent zippers, a tonal 2-way front zipper, and a spring-loaded zipper puller. ALEXIS is available in sizes ranging from XXS to XL.
The ATHENA waterproof trousers are the perfect match for the ALEXIS jacket, as they're built using the same state of the art Stretch GORE-TEX® fabric and they're available in 10 sizes, featuring adjustable leg width, a Velcro adjustable waist, a single front pocket and 2 back pockets, water repellent zippers, a split inseam for abrasion resistance on the leg ends a zipper fly opening and the now-familiar spring loaded zipper puller.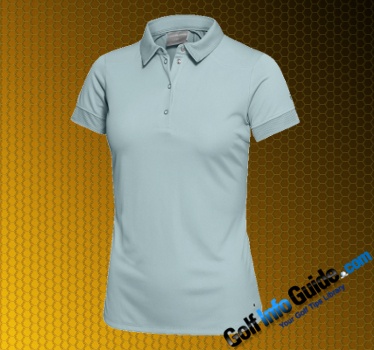 The Ladies' collection also offers a brand new lightweight waterproof jacket, which is manufactured using high quality GORE-TEX® Paclite® technology fabric. The item in question is the full zip ALICIA jacket, which comes with shaped sleeves for delivering the ultimate in terms of freedom of movement, along with a box pleat at the back, a 2-way front zipper featuring a spring loaded puller, front pockets with zipper closing, adjustable cuffs, a redesigned side seam for better fit and optimum comfort, and an elastic drawstring on the hem. The ALICIA jacket is available in 3 colorways: Black/White, Rose and Sea Pine, while the sizes range from XXS to XXL.
The Galvin Green 2018 Part Two collection Ladies' range includes the LAUREEN , which makes for a 100 percent nylon made windproof jacket, part of the new Hybrid INTERFACE-1™ range. LAUREEN boasts a stylish and unique metallic shine and it's available in Sea Pine and Navy colorways, featuring INSULA™ inserts for optimum warmth in all weather conditions, and it's lined using PRIMALOFT padding. This ladies' jacket is incredibly breathable and also water repellent, which makes it the ideal companion in all weather conditions, and comes with an elasticated drawstring at the hem, elasticated cuffs, 2 front pockets and shaped sleeves, for ease of movement.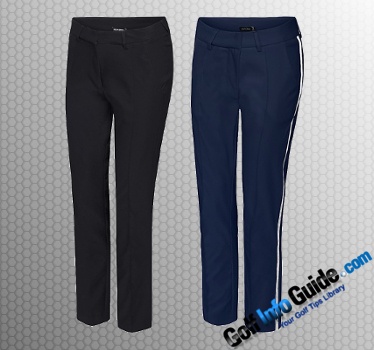 Moreover, the Ladies' range includes the DIXIE INSULA™ full-zip cardigan, which is soft and stretchy, offering extra warmth both on and off the golf course, everything in a classic design. The MATILDA short-sleeve shirt uses the VENTIL8™ PLUS fabric to deliver UPF 20+ protection and moisture transportation, everything in a chic-piquet style. The MATILDA is available in 3 smart colorways, featuring mesh detailing in the sleeves and in the collar, in sizes ranging from XXS to XL. And, last but not least, we have the NATALIA trousers, which are built using one hundred percent polyester stretch VENTIL8™ PLUS fabric, featuring a cool stripe down the side of each leg.
For the full details of the 2018 Part Two range, visit www.galvingreen.com.