What's the fastest way to shoot lower scores?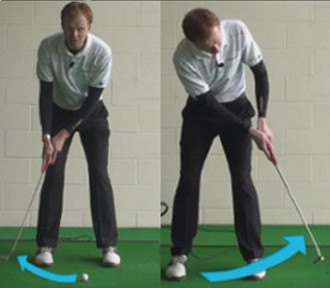 Make more putts. Okay, so you've probably heard that advice before, and it really isn't very helpful. After all, it doesn't take a golf expert to know that making more putts will quickly cut strokes off of your average score. But how do you actually make those putts? That's where it gets tricky.
In this article, we are going to address one possible option that you may wish to use in an effort to make more putts. By switching to a heavier putter, you may be able to even out the tempo of your stroke, and more of your putts may find the bottom of the hole as a result. Is this a sure way to improve? Of course not. If it were, every golfer would use a heavy putter and there would be putts falling in from all over the greens at your local course. Golf is much too difficult to dramatically improve your game simply by making one or two equipment changes. You might be able to take a step in the right direction by choosing a heavier putter, however, and this change along with plenty of practice could lead to lower scores in the long run.
It does need to be said that nothing you can do with regard to your putting is going to be quite as valuable as practice time. Spending time on your local practice green rolling putts is the best way to improve, because that experience is going to pay dividends in a number of ways. It is going to help you learn how to roll the ball the right distance, and it is also going to help you get more comfortable with your technique. You want the putter to feel natural in your hands while on the course, and that is only going to happen if you actually practice this part of your game on a regular basis.
All of the content below is based on a right-handed golfer. If you happen to play left-handed, please take a moment to reverse the directions as necessary.
The Value of a Smooth Stroke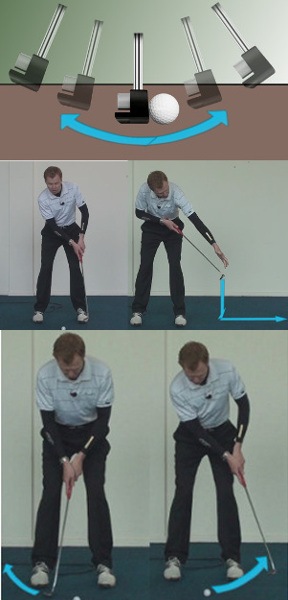 Before we get into the specifics of why you may want to consider a heavier putter, we should back up for a moment and talk about the idea of making a smooth putting stroke. Why is this desirable? What is it about a smooth stroke that leads to better performance, as compared to a stroke which features an uneven tempo? You may have been told previously that you should use a smooth stroke, but it's entirely possible that you've never thought about why. Let's address that issue here in this section so you understand exactly how you can benefit as a result of making a smoother stroke back and through the ball.
The points below highlight the key gains to be experienced with a smooth stroke.
Better speed control. This is really the major selling point related to a smooth putting stroke. When you swing the putter back and through the ball using an even tempo, it will be far easier to control the distance that the ball rolls. While many golfers tend to focus on the line of their putts first and foremost, it is really the speed of the putt that is the main challenge (assuming you are more than a few feet away). Controlling your speed on medium-length and long putts allows you to leave the ball close to the hole for a simple tap-in with your next putt. Think about the last round you played and try to remember any shots you feel like you wasted on the greens. Were those shots lost because you hit your putts on the wrong line, or because your putts had the wrong speed? Most likely, it was because of the latter. You'll miss a short putt from time to time because you miss your line, but most of the problems that amateur golfers face on the greens are due to poor speed control. Learn how to make a smooth, flowing stroke and you'll likely see that your speed control quickly improves.
Hit your line. Yes, speed control is crucial to hitting great putts – but that doesn't mean that hitting your line is irrelevant. It's still quite important to hit your line, of course, as your putt is not going to fall in unless it is rolling in the proper direction. Not only should you find it easier to control your speed when you make a smooth stroke, but you should also find that your putts start on line more frequently. This is due to the consistency of the stroke – there will be less variance from putt to putt when you have a nice even rhythm. The players who are inconsistent on the greens tend to be those who struggle with their tempo. Master the art of making a rhythmic stroke and suddenly the task of hitting your putts on line won't seem so daunting.
Hold up under pressure. Perhaps the most overlooked benefit of using a smooth stroke is an improved ability to putt well under pressure. You don't have to be a professional golfer to feel pressure while you play, and that pressure is more likely to land on your shoulders while on the greens. Whether you are nervous because you have a chance to shoot a new personal best score, or because you are trying to beat the other players in your group, knowing how to putt well under pressure is a valuable skill for any golfer to possess. With great rhythm on your side, it will be less likely that your stroke will break down as a result of nerves. You will still feel nervous, of course, but you should be able to perform properly even while experiencing those feelings.
It's not a coincidence that nearly every player you see on the PGA Tour possesses a beautiful, flowing stroke. The players with those kinds of putting strokes tend to make it to the top of the game because of the way their flat stick performs round after round. You have to putt consistently to post low scores, and you have to putt well under pressure. A smooth stroke will help you accomplish both of those things. Let's move on to the next section to determine exactly how a heavier putter may help you work toward your goals on the greens.
How a Heavier Putter Could Help


At first, it might not seem like the weight of your putter would have much to do with your ability to make a smooth stroke. After all, you aren't making a big swing when you are hitting your putts, so does the weight really make that much of a difference? It turns out that it does. Being able to feel the weight of the putter can help dramatically in terms of your ability to produce a smooth stroke back and through.
Let's work through a few key points which will highlight the benefits you may enjoy when using a heavier putter.
Improved feel for the stroke. You have probably heard other golfers talk about 'feel' before, even if you weren't exactly sure what it meant. Basically, your feel is your ability to control the distance of the ball on non-full shots. So, if you have good feel around the greens, that basically means that you are able to hit your chip and pitch shots the right distance. The idea is the same when you are on the green. When you have good feel with the putter, you can roll most of your putts the right length – and a heavier putter may help you improve in this area. Those who use light putters often struggle to feel the putter correctly because there just isn't enough weight on the other end of the putter to give the feedback they need. If you decide to test out a heavier putter, one of the first things you will notice is improved ability to feel what is going on during your stroke.
Limit your ability to rush. You probably already know that you shouldn't rush through the putting stroke, especially during the transition from backstroke to forward stroke. It's one thing to know that you shouldn't rush through the transition of your stroke, but it's another thing to actually be patient enough to keep your stroke smooth from start to finish. You may be able to maintain your smooth rhythm with your current putter on the range, but do you keep that tempo on the course for all 18 holes? If not, switching to a heavy putter may help you to stay on track throughout your entire round, even when under pressure. The reason it is easier to avoid rushing your stroke when using a heavier putter is simple – you'll need to apply more effort in order to rush, since the club weighs more overall. Even if you do have a slight impulse to rush, the putter will basically 'fight back' because of its significant weight. This should limit the damage of your rush impulse and keep your stroke on track for a positive outcome.
Resist twisting at impact. Believe it or not, you don't actually hit the ball on the sweet spot with your putter each time. Most players just assume that they will hit the ball solidly with their putter on each stroke, but that is actually not the case. Even good putters miss the sweet spot relatively often, and those putts that don't come off the sweet spot usually won't end up in the bottom of the cup. Not only are off-center putts likely to come up short of the target, they may miss the line as well, due to twisting of the putter head. By using a heavier putter, you might be able to reduce the twisting that takes place at impact, and therefore you may be able to hit the intended line more often. This point probably won't make a dramatic impact on your putting, but every little bit of improvement can help.
We aren't trying to argue that using a heavier putter is automatically going to make you a better golfer. Nor are we trying to say that every golfer will be better off with a heavier putter. The point here is that switching to a heavier putter has the potential to help you, and it is an option that is at least worth exploring.
Adjusting to Your New Putter


For the purposes of this section, we are going to assume that you have decided to try out a new, heavier putter. That's great – but don't expect to instantly start knocking in putts from all over the green. You are going to have to be patient with this transition, as nothing comes quickly or easily in golf. This is a tough game, and you'll need to put in some hard work if you are going to make meaningful progress.
Your first objective once you have your new putter in hand is to spend as much time on the practice green as possible. That might sound obvious, but many golfers take putting for granted during practice, instead choosing to hit shot after shot on the range. To get used to your new putter, making the practice green your primary destination during practice sessions. Sure, you can hit some balls as well, but don't skimp on the amount of time you spend rolling putts. The experience you gather in practice will be hugely valuable when it comes time to head out onto the course.
So, how should you practice? There are a couple of keys to keep in mind. First is that you should be varying the length of your putts as much as possible. Don't just stand near a hole and hit three-footers over and over again, and don't only hit long putts across the green. You are going to face a variety of putt lengths in each round that you play, so vary the distances that you attempt when practicing, as well. You always want your practice sessions to be as much like what you will face on the course as possible. Pay attention to the putts you are attempting and be sure to mix things up for maximum improvement.
Another practice key is to take your time and treat each putt like it is an actual putt during a round of golf. As mentioned above, you are trying to emulate the experience you will have on the course, and you certainly wouldn't just rush up to the ball and hit it during a round – but you might in practice. Instead, take your time and read each putt carefully before making your stroke. You won't wind up hitting as many putts in total this way, but the putts you do hit will be more valuable. This is good practice advice not only for working on your putting, but your swing as well. Don't go for quantity during golf practice, but instead focus on quality.
As you continue to gain experience by practicing with your new putter, be sure to pay attention to its specific traits and tendencies. Where do your misses tend to go? Do you push the ball when you make a mistake, or do you tend to hit pulls? Even if your putting stroke improves with the heavier putter, it is still not going to be perfect. You need to know what your tendencies are so you can guard against them on the course. For instance, if you find that your short putts tend to miss left (if they miss), you can aim inside the right edge to give yourself a little margin for error. It is these little things that you need to learn during practice if you are going to putt at a high level on the course.
Even if you do a good job of practicing with your new putter frequently, there will still be some adjustment that can only take place on the course. That's just how golf works, so don't feel bad if you fail to putt as well as expected right away. Give yourself a few rounds to build confidence and trust in the new putter before you decide whether or not it is going to stay in your bag for the long run.
Other Tips for Improved Play on the Greens


At this time, we would like to shift gears and offer up some other tips on how you can make more putts in upcoming rounds. We do think that using a heavier putter is something many players should consider, but there are plenty of other ways to work toward improved results on the greens. Read through the list of tips below and try out any of them that you think may help you knock the ball into the hole with greater frequency.
Play more break. This is a classic tip which is often given to amateur golfers. It is a good one, too, because most players don't read enough break into their putts. During an upcoming round, consider trying the following method – read each of your putts, pick out the line that you think will work, and then add just a bit more break to that line. You might think that all of these putts are going to miss high, but they probably won't. Playing more break will allow you to use a gentler speed while still keeping the ball on a line that allows it to fall in.
Warm up correctly. Many golfers fail to hit enough warm up putts before walking to the first tee. Warming up on the greens is extremely important because the condition of the greens can change from day to day. Even if you play a given course frequently, you can't just assume that you know how the greens will be running for that round. Hit a number of long putts, along with plenty of short putts, so you are comfortable with the putting surfaces and ready to roll the ball nicely right from the very start of the round.
Mark the ball. This might seem like an odd tip, but it is one you should keep in mind while on the course. If your first putt on a given green does not fall in, your default plan should be to mark the ball and gather yourself before hitting the next putt. You obviously don't need to do this is the ball is literally an inch or two from the hole, but try to mark the ball any time you are facing a putt that you could theoretically miss. This will not only allow you to clean the ball off before hitting the next putt, but you can also reset your mind and get rid of any frustration you may have from missing the previous putt.
Watch your playing partners. Don't just stare off into the distances while the others in your group are hitting their putts. There is valuable information to be picked up by watching other putts role up toward the hole, so pay close attention. Does the break of the green seem to be tricking the others in your group? If so, you might want to take another look at your read before sending your ball on its way. Also, take note if the putts seem to be racing by the hole or coming up short. Drastic errors in terms of distance control could indicate that the green is not rolling at the same speed as other greens you have played previously.
The idea of using a heavier putter might not be one that you have previously considered, but we would suggest at least thinking about it for a while. If you come to the conclusion that a heavier putter could help your play, give the new club plenty of practice time before you attempt to use it on the course. Good luck!