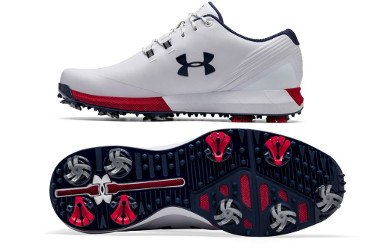 Under Armour is a well-known sporting-goods (with an emphasis on footwear) manufacturer, and one of the best in the business, even if they've had some financial troubles lately; all that aside, the good news for today is that Under Armour released recently their latest golf shoe, the HOVR Drive respectively. The HOVR Drive follows the release of Under Armour's 3rd gen Spieth shoe, and according to the company, it was designed to bring you unparalleled comfort levels over eighteen holes, along with powerful energy return to maximize power during the golf swing.
Launched back on March 1st, the HOVR Drive golf shoe features all the technological bells and whistles in Under Armour's portfolio, being built to bring supreme comfort during those long and exhausting golf rounds via their patented HOVR cushioning which runs from heel to forefoot, paired with a very light and flexible midsole and outsole, along with an integrated lacing system, so your feet will feel just as good at the eighteenth hole as they did on hole one. The HOVR underfoot cushioning is arguably the main thing to mention in these babies, as it's very soft and light, making these shoes a pleasure whilst you're walking the course; however, while a supremely soft underfoot cushioning is a nice "asset" to have in a high-end pair of golf shoes, it may impede power generation. But that's not the case with HOVR technology, as Under Armour's Research and Development department worked hard to bring you the best of both worlds with this tech-gizmo. Here's the Director of Global Golf Footwear at Under Armour, Mike Forsey respectively, speaking about the HOVR thing: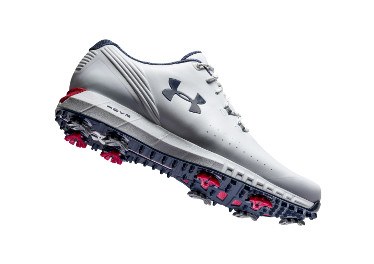 With most other cushioning platforms, you have to choose softness or responsiveness. Not so with the HOVR Drive. UA HOVR cushioning technology ensures total underfoot comfort and superior energy return.

When developing HOVR Drive, Under Armour's engineers have focused on the shoes' 3 key features: first, is total comfort. And that's a no-brainer, as we've all been there, wearing not-so-comfy golf shoes which were rubbing all the time, thus making your feet feeling miserable. In order to avoid that, Under Armour developed the full length cushioning thing, which runs from heel to forefoot, for delivering amazing comfort while still delivering explosive energy return during your swings. Besides comfort, a good golf shoe must provide you with all the traction in the world on any type of turf. And here, the HOVR Drive's response was RST 2.0 rotational resistance spikes, which are designed to prevent rotational slippage during swings, as your foot pivots through after turning. On top of that, you get green-friendly Softspike Silver Tornado spikes, which are amazing in terms of providing horizontal traction as you walk the golf course, for supreme comfort. The HOVR cushioning system debuted in Under Armour's running shoes last spring, then in the fall the HOVR saw action in the company's basketball shoes. Now, after the technology has been proven and tested in action, it's golf-shoes time, as the technology finally arrived here.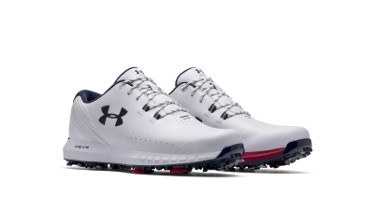 The patented HOVR foam is designed to use the energy created by your feet every time you run or step on the course, and works like a trampoline of sorts, which returns the respective energy thus creating a spring-like sensation as you walk the fairways, for supreme comfort. To add to comfort, the TPU (basically a lightweight thermoplastic polyurethane) made outsole comes with numerous traction elements, including teeth-like (triangular) pieces on the lateral side, and the aforementioned 9 low profile cleats. On top of that, the HOVR Drive is designed with Under Armour's Storm technology, i.e. it's totally waterproof.