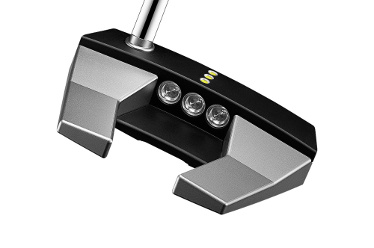 The brand new Phantom X line of putters from Scotty Cameron represents the company's successor to its hugely popular Futura line. The Phantom X are engineered to be the best of the best, making for high-performance mallets which incorporate state of the art technology, and they're produced by a famous designer. It doesn't get any better than that, right?
Retailing for $429/each, the new Phantom X putters are based on 5 distinct clubhead designs, featuring a wide range of alignment and shaft bend options, making for 9 brand new models. Basically, regardless of one's stroke type, the new Phantom X line-up should be able to offer a model to suit you like a glove. Each of the Phantom X mallets boasts a composite/multi-material construction, featuring a milled solid Aircraft-grade 6061 aluminum face and a 303 stainless steel clubhead, along with Titleist's famous vibration dampening technology.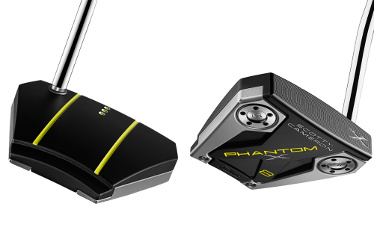 On top of that, you'll get a cool Pistolero Plus grip. Each of the Phantom X mallet-styled putters is designed with the highest moment of inertia possible, and according to Scotty Cameron, but let's quote the man himself:

"Phantom X is by far the most high-tech putter line we've designed to date.This product is so much faster looking, and taken to the next level, that it needed a new name. It's a major leap in performance. We've designed a variety of flange setups, alignment options and shaft bends to offer mallet players more models to choose from. I was inspired by Tour players who've asked for slightly smaller profiles with more alignment options and solid face construction. The engineering has been ramped up to an entirely new level to bring this brand-new line to life. Phantom X is the ultimate lineup for mallet players."

With all these in mind, let's take a closer look. First, we have the Phantom X 5, which can be best described as a mid-sized mallet, and truth be told, Scotty used this particular design before. The X 6 features an almost identical shape as the X 5, but the center section is filled with a piece of aluminum. Then we have the X 7, which is almost identical to the X 6 in terms of footprint, but features an elevated extension piece, made from aluminum. The Phantom X 8 is pretty similar with the 5, 6 and 7 models, but the stainless steel pieces are not evident at address, while the top features a dark-material cover. Finally, we have the Phantom X 12, which is the biggest of the bunch, and comes with extensions located in the back of the heel and toe, which look like wings, and they're aimed at boosting the putter's already high MOI even higher.
Finally, all the putters in the Scotty Cameron Phantom X line-up will be available for purchase starting from April 12th at selected retailers.