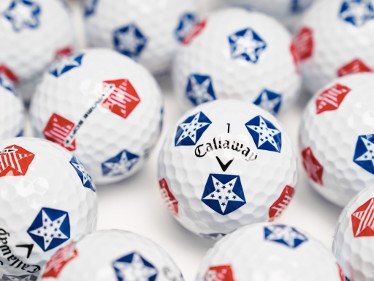 If you're an American patriot, as most our website readers are, you should be glad to learn that Callaway released just a few days ago their latest Chrome Soft Truvis Stars & Stripes Golf Balls. The Truvis pattern is well known among golf-aficionados, but this time, you'll be delighted to discover the new design featuring stars and patriotic red-white-blue colors. Besides fighting the good fight, Callaway's new Truvis pattern serves a very practical purpose, as it's designed to improve the golfer's view of the ball, and it does that quite dramatically, maximizing focus and visibility in all types of weather.
On top of that, the new Chrome Soft Truvis Stars & Stripes Golf Balls boast the same performance enhancing technologies and characteristics as Callaway's original Chrome Soft ball, so if you give these babies a shot (literally), don't worry, your game will not suffer a bit. And in case you don't know what we're talking about, you must learn that the Callaway Chrome Soft golf ball comes loaded with all the technological bells and whistles available in the company's portfolio, including the famous graphene-infused Dual SoftFast Core, a proprietary technology which delivers increased control around the greens and an exceptionally soft feel, which made Callaway-made balls famous.
And we saved the best for last: the new Chrome Soft Truvis Stars & Stripes Golf Balls are retailing for just $44.99 per dozen, and they're available in retail shops since May 3rd.