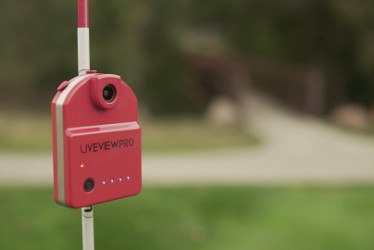 For many people, the original LiveView camera was a gift from Heaven, as LiveView Sports' golf studio dramatically changed the way golfers practice via their highly innovative product. If you're not familiar with the Live View Camera, here's a short recap: this gizmo is basically a four-ounce compact camera, which can be clipped easily on an alignment rod or a tripod, and allows you to record your golf-swing from literally any angle.
The interesting part is that the Live View Camera is then connected to the specially designed Live View app wirelessly, and then you can use your tablet or smartphone to display your "performance" (mirror image video basically) in real time. Due to this smart technology, you'll be able to improve your game as you'll benefit from immediate visual feedback via live video feed, and observe your golf posture/golf swing from any angle and perspective, and thus you'll be able to correct your errors instantly, as they happen, without requiring an expensive personal trainer or taking golf lessons etc.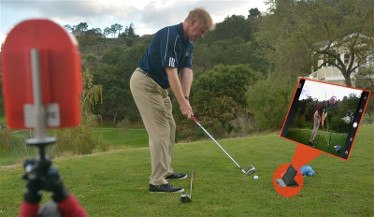 Now, there's a new generation of the LiveView/ LiveView+Plus camera out there, better than ever, and this baby is arguably one of the few must-have pieces of golf gear in any respectable golfer's paraphernalia. The new features introduced in the latest-gen include high detail slow motion replay (as cool as it gets), high quality 60 FPS (frames per second) video speed, an advanced option to draw coaching objects on the video screen of choice (smart TV, smartphone or whatever), and even a smart swing trigger for auto record and instant video replay. But wait, there's more: you'll also get a brand new and redesigned lens, which is larger than in previous generations and the sensor captures more light for clearer videos, especially indoors; the LiveView Pro has a 4 times bigger sensor compared to previous models, hence it's way better at converting light, while the wide angle lens built-in makes it easier to capture any angle of one's swing indoors, as it reduces the minimum camera distance to 6.5 ft.
All these new features and tech improvements make the LiveView golf-camera more versatile than ever before, as it allows for accelerated improvement regardless of the environment, i.e. indoors or outdoors, due to the live feedback and smart features which reduce shaft blur and produce crisper images.