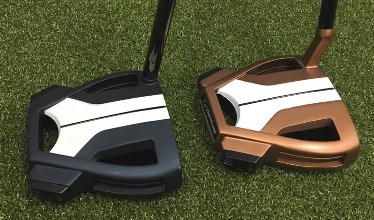 Taylormade has released the newest version of their Spider putter series, the Taylormade Spider X. This putter has a smaller head than the previous members of the Spider family which leads to a less bulky look. Taylormade combines their Pure Roll technology with their True Path technology to create the best Spider putter to date. The Spider X can be customized on Taylormade's website, featuring two color options, navy and copper and a single sight line to improve alignment. This putter model is #1 on the PGA Tour and the Spider X is currently being used by Rory McIlroy.
The Spider X putter includes new features from Taylormade that make this putter better than the industry average. One of the most noticeable features is Taylormade's True Path alignment system. The True Path alignment system has been optically engineered to increase the player's accuracy and initial setup to help you make more putts and lower those scores. The X design helps the player visualize the intended line between the hole and ball. If you struggle to keep your putter face on line, the Spider X may be the one for you.
Along with impressive alignment improvements and unique design, this putter also features exceptional weight technology. The head of the Taylormade X Spider is 30% heavier than the previous, in order to reduce "twisting" and to improve swing fluency. The body of the putter features most of its weight on the perimeter which makes it more smooth on the takeaway and follow through. Taylormade continues to impress us all with the customizable weights on this new putter. The removable end weights give the player the option to use 2g, 6g, or 12g. After using this putter, you will find yourself becoming more consistent and accurate on the greens. The Taylormade Spider X will cost you $350 and can be fully customized on Taylormade's website.