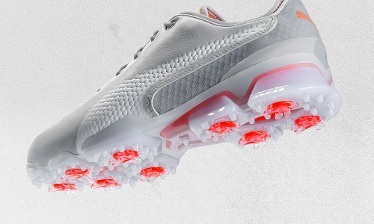 The new Puma Ignite Proadapt golf shoes are finally available for purchasing since, well, last month, March 13th respectively, and they don't come cheap: if you want the latest and greatest golf shoes wearing Puma's logo, you'll have to cough up $200 (MSRP). However, you'll get a lot of bang for the proverbial buck, as the new Ignite Proadapt golf shoes are built and designed by one of world's best known athletic footwear companies, working together with a living legend: Rickie Fowler. So, if you want the best of the best, the Puma Proadapt Ignite may very well fit the bill.
It goes without saying that Rickie Fowler is one of the golf world's "trend setters" in regard to fashion and style, as his designs instantly achieved "legendary status" among golf aficionados. His bold fashion-style can be easily recognized due to a choice of bold colors, modern designs and state of the art/modern technical fabrics. But, optics aside, it's worth mentioning that Rickie Fowler is known for his countless hours spent on the golf course, walking miles and miles every day and hitting balls from any position, hence his peculiar fashion-style is definitely backed up by action in the field, i.e. his golf gear is also functional, besides looking awesome.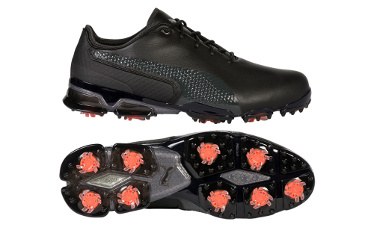 After the 30 year old Rickie Fowler won the 2019 Waste Management Phoenix Open, it became obvious that his custom-made golf shoe that he wore during the tournament, the Ignite Proadapt, which was developed with Puma Golf, will become an instant commercial hit, and that's exactly what happened. Rickie provided Puma's Research and Development team with his own ideas and plenty of feedback, helping the company's designers to create the initial prototype of the Ignite Proadapt, the exact same prototype proven in combat; the thing is, he actually wore these babies as he won the 2019 Waste Management Phoenix Open a month ago. Now, these cool shoes are available to golf-aficionados world-wide, and they're designed to provide insane amounts of traction on any type of terrain, due to the Puma Ignite Proadapt's cleated outsole, which comes standard with no less than 9 state of the art SoftSpike dual-durometer Tornado cleats, not to mention the specially designed traction elements which are strategically placed to provide autistic levels of grip throughout your swing.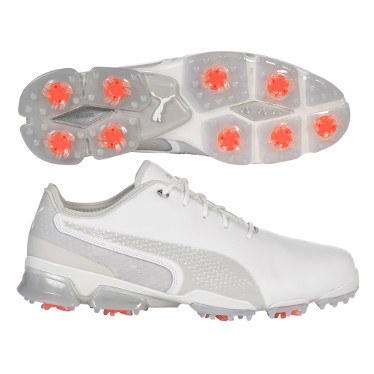 The insoles are made using soft polyurethane material, which provides supreme comfort, and works in tandem with Puma's patented polyurethane foam in the sole, and we're talking about the proprietary Ignite Foam, aimed at delivering extra cushioning for binge golfers. According to Puma, their Ignite Foam technology is immune to high temps and it last way longer compared to regular cushioning materials, so you should expect a softer feel and more energy return as you walk the greens from shot to shot. Finally, as expected from a high quality golf shoe, the Puma Ignite Proadapt's upper is made using fine leather, and it boasts one year waterproof warranty, i.e. these babies can be worn in any type of weather, anytime, anywhere.
If you're already sold, you should learn that Puma plans to launch special limited editions of these cool shoes throughout the year, i.e. during Players Championship, or the Arnold Palmer Invitational. Until that day, you can order a "vanilla" pair of Ignite Proadapt in Black, White and Gray color ways.