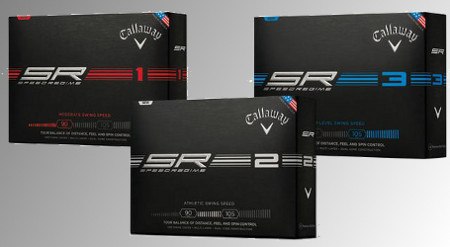 All golfers share the need for speed. Some can produce plenty on their own, while others require a little help.
---
---
Callaway's new Speed Regime golf ball lineup, due in stores in January 2014, features three models designed for golfers with different swing speeds. It's certainly not a new concept – most ball manufacturers offer at least one similar series – but the Speed Regime marks the first time Callaway has "customized aerodynamics for different segments of golfers," according to Senior Director of Golf Ball R&D Dave Bartels.
Here's the lowdown on the new models, each made with a urethane cover and retailing at $47.99 per dozen:
Speed Regime 1 (SR1) – The SR1 is a soft, low-compression ball fit for golfers who swing the driver at less than 90 mph. Extra spin off the driver keeps it in the air longer, while the soft cover delivers good greenside control.
Speed Regime 2 (SR2) – A five-piece ball designed for 90 – 105 mph clubhead speeds, SR2 launches with less drag, higher velocity and a touch of added lift for a carry boost. A tad firmer than the SR1, yet built for excellent short-iron spin.
Speed Regime 3 (SR3) – Aimed at high-speed swingers (106+), the SR3 was crafted for less spin and a flatter trajectory off the driver. As the ball Callaway's tour players will likely adopt, expect ample feel and spin around the greens from the SR3.
For in-depth analysis of Callaway's current golf ball models – and those from all major manufacturers – visit our Golf Ball Tests and Reviews page. We also offer a Free Golf Ball Fitting Service.