If you watch the golf channel, you may have seen Erik Anders Lang talking about Vice Golf balls and how they could help you save money on quality equipment. Vice Golf was founded in Germany by Ingo Duellmann and Rainer Stoeckl in 2012 and they have been producing premium golf balls at a low price ever since. By shipping their products directly from the manufacturer to the consumer, Vice Golf cuts out the middleman and is able to sell at lower prices than their competitors. Three years after their inception, Vice Golf balls had already expanded across Europe and into the United States.
You will not be finding Vice Golf balls in stores because their online business model is the reason they are able to cut prices so low. Vice claims that one of their brand new golf balls costs about the same as a used golf ball from one of the big golf ball manufacturers but they do not sacrifice any quality when producing their products. Standard golf ball companies send their golf balls through at least three middlemen before reaching the end user. As a result, these balls are marked up about four times. Vice avoids this issue by only selling their products from their website. When bought in bulk, these balls will cost you even less.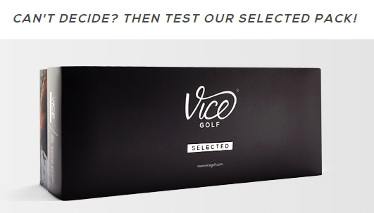 Vice Golf produces five different types of balls that are all top quality. In order to decide which ball is best for you, the Vice Golf website offers a Ball Recommender which will ask you a few questions to determine which model works best for you. These balls have been tested rigorously and Vice claims that they are of equal quality to the most popular golf ball companies in the United States. You can buy a dozen Vice Golf balls for as low as $25 which is a steal compared to the cost of a dozen Pro-V1s which will run you about $40.
Another aspect of their business that sets Vice apart from their competitors is their low cost customization options. You can put pictures or text on your golf balls with no minimums. For example, when I graduated high school in 2016, we gave out dozens of Vice Golf balls with my graduation photo on them to the guests of the party. It was a unique gift for people to take home with them, even if they don't play golf. All Vice balls will also have a "Keep In Line" (KIL) alignment stripe in order to improve your accuracy and lower your scores.
In conclusion, I love what Vice is doing for golf. They are a part of a new youthful movement in the industry. A movement to bring the costs of the game down while getting more people involved. Their low costs allow everyday golfers to play with high quality products without the high price tag. If you're a golfer that wants to enjoy the game more and not have to worry about losing a $5 golf ball, then Vice Golf is for you.