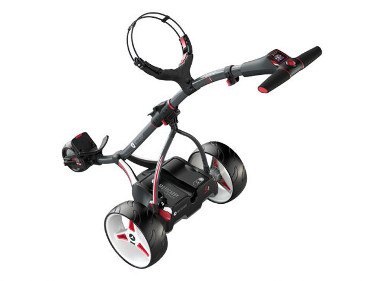 If we're talking golf trolleys in 2019, Motocaddy comes to mind as one of the best known companies in the business; the good news for our readers is that Motocaddy just announced its latest range of electric and push trolleys by introducing no less than 3 extra models, to add to its existing range. So, the three musketeers of golf trolleys are the entry level Motocaddy Z1, then we have the comprehensive S1, and finally, there's the top of the range, the Motocaddy S7 Remote, the flagship and all that, which comes with all the bells and whistles one could wish for in the current year.
Basically, Motocaddy has something for everyone in 2019, and to quote the company's marketing manager Oliver Churcher:

We're proud to continue innovating and pushing the boundaries in both the powered and non-powered trolley sectors. Our 2019 range includes a trolley for every golfer, irrespective of whether their decision is based on budget, technology, size or design.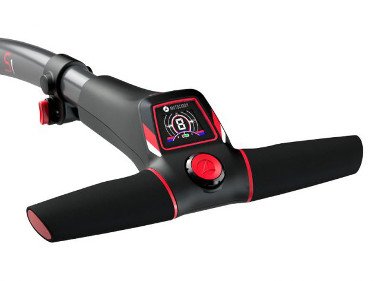 Let's begin with the Motocaddy S1 Electric Trolley, the leading/bestselling model in the company's portfolio. The S1 received a number of major upgrades in 2019, yet its iconic design and high quality construction are here to stay, because after all, if it ain't broke, don't fix it, i.e. Motocaddy retained what made the S1 great and world's bestselling electrically powered trolley, but they added a number of improvements into the mix to make it even more desirable.
What's new in the S1, you asked? First, we have a new high-definition LCD screen, which has excellent sunlight legibility, and it's also pretty much alike the one you can find in the M series range. On top of that, the S1 boasts 9 different speeds settings, and to power the whole shebang to the moon and back, this state of the art electric trolley features a highly advanced battery with a cool speed indicator and accurate meter, to keep you up to date with what's going on during your golf endeavors.
Speaking of advanced batteries, the S1 is powered by a lithium variety, which is incredibly beefy autonomy wise, yet lightweight enough to make the trolley easy to move; and if so inclined, you can even let the battery in its special battery tray for charging during transportation. Motocaddy's Oliver Churcher added about the S1: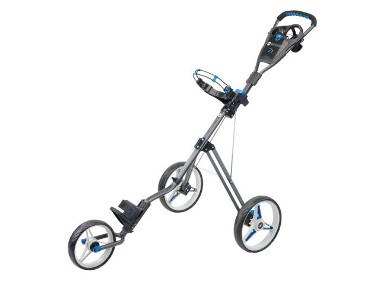 The S1 trolley has been a mainstay of our range for well over a decade and we're confident the latest model will be as popular as its predecessors.

Next in line we have the Motocaddy S7 Remote Electric Trolley, which can be described as a hands-free trolley, hence the Remote thing, i.e. this baby can be remotely controlled and comes with a number of brand new features and additions to make it the most advanced electrically powered golf-trolley in the world today, which makes for the perfect choice for golf players in all situations. The lithium-powered (rechargeable) remote control is well designed and compact, and allows you to be in charge of your trolley around the course via its smart dual-pressure buttons. The S7 also features an integrated holder for your remote control located on the underside of the handle, so you won't lose it between the rounds.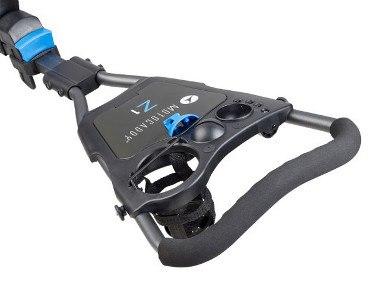 Gadgets aside, the Motocaddy S7 boasts a redesigned drive system, which is way better than in previous generation with regard to directional controls, and it's also more eco-friendly, as in it uses less power, i.e. you get more "yardage" on the same battery capacity. Obviously, the S7 comes with Motocaddy's legendary Automatic Downhill Control technology, which debuted on the S1 back in 2016. The Automatic Downhill Control allows the trolley to recognize a downhill or an uphill slope, and it adjusts the trolley's settings to keep a smooth ride and a constant speed on undulating terrains. But wait, there's more: the S7 has a manual control mode, a pause/resume feature, an emergency stop function, an extra anti-tip rear wheel, 45 second hibernation and 50 meters cutout distance.
Obviously, Motocaddy retained its excellent Quikfold mechanism and Easilock bag connection on the S7, and added an extra USB port to charge your GPS/smartphone while you're walking the links. Last but not least, we have the Motocaddy Z1 Push Trolley, the entry-level workhorse of sorts, which is designed to provide amazing value for money in an easy to use/easy to deploy/no-nonsense lightweight fully featured trolley. This non powered trolley completes Motocaddy's Cube, Cube Connect and P1 lineup, and comes with the company's excellent 2-step folding system, the parking brake (foot-operated) and an adjustable easy push handle, which can be adjusted to 3 heights.
Embedded in the Z1's handle section you'll discover a generously sized accessory compartment, to keep your spare balls and tees safe during your walks, a scorecard/drink holder and an umbrella holder fitting (this is an optional feature by the way) to keep you dry in adverse weather conditions. The Motocaddy Z1 comes with oversized wheels featuring friction free bearings (maintenance free, mind you), which boast a quick release mechanism, so you can save space when deploying your push-trolley in confined spaces.
Bottom line, if you want the best of the best, the electric trolley with all the bells and whistles money can buy, the S7 Remote has your name on it, as it's the most advanced trolley you'll be able to find in the current year. If you want a simple, no nonsense push-trolley which doesn't require you to put a second mortgage on your house, just go for the Z1. Finally, if you want a "middle of the road" electric trolley, which is both cost effective and flexible, go for the S1.