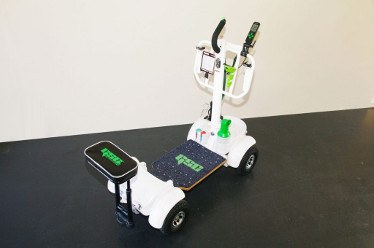 In case you didn't get the memo, Golf Skate Caddy is one of the industry leading manufactures (if not the top-dog) in the single rider golf-cart niche, and during the 2019 PGA Merchandise Show which took place in Orlando between January 22th and 25th, they launched their latest GSC V3, while recording the most sales in the company's 5-year history.
The new and revamped GSC V3 single rider golf cart was redesigned and features a number of improvements and benefits, such as a stability pole and precision steering, wide high traction platform, variable speed/breaking system, 4 all-terrain tires for providing you with the smoothest ride possible, a bright/waterproof LCD display, state of the art adaptive suspension for control and balance on all types of terrain, an ergonomic beverage cooler and drink holder plus a detachable umbrella for sun and rain protection, and finally a thickly padded quick release seat.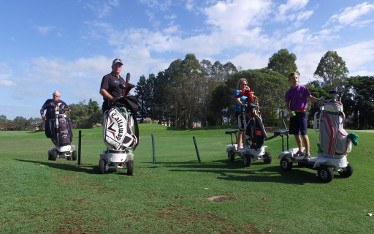 The Golf Skate Caddy V3 is capable of holding any model of golf bag, regardless of its size, while providing you with various types of holders for your golf paraphernalia, i.e. tees, golf balls, divot repair bottle, scorecard, mobile devices such a smartphone or a laser range finder and many more. There's also a cool variable 4 speed control feature, which starts at 3 miles per hour (walking speed basically), and it's capable of accelerating up to twelve miles per hour, which is the regular speed of a traditional golf cart. Moreover, the Golf Skate Caddy V3 easily collapses if so required, i.e. if you want to fit it easily into your truck or SUV.
President of Golf Skate Caddy USA Ken Koldenhoven was quoted as saying about the company's latest product that, let me quote:

"This year's PGA Show was a huge success. One major retailer approached us on buying several thousand units. The popularity and acceptance of single rider carts by courses and players is gaining momentum. Golf Skate Caddies are fun, efficient, and add a new twist to the game for players of all ages. We've greatly improved the technology and manufacturing on our new V3 modelAny time you breakthrough into a new technology category there is a development curve. We continue to innovate and improve the Golf Skate Caddy and focus on customer service."