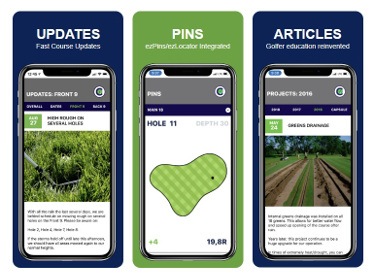 If you're a fan of big tech and golf gadgets, the good news for today is that Playbooks for Golf announced their "integration" (think Borg and assimilation, just kidding) with ezLocator®. What does it mean, you asked? Well, if you're tech savvy, you already know that Playbooks for Golf has a cool app, Conditions App respectively. Enter ezLocator®, which makes for a highly innovative and patented cloud based solution, which is aimed at providing actionable insight (corporate lingo) into green/golf hole management.
In laymen's terms, today's announcement about ezLocator holding hands with Playbooks for Golf means that the former is going to provide their patented technology to the latter's Course Conditions app, i.e. exLocator's cloud-based solution is going to bring daily hole locations onto Playbook for Golf's smartphone-based platform, thus making it easier for superintendents to communicate with their customers, i.e. with golfers, which means you. The seamless integration between ezLocator and Playbook for Golf is going to allow you to only have to use one app for both course condition information and hole locations. As Playbook for Golf's app works with the vast majority of clubhouse apps, this means you'll benefit from a much better (as in unified) user experience as an end user.
To quote Billy Weeks, who is the Houston Country Club Superintendent: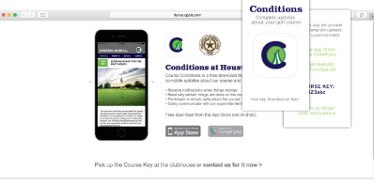 "Over the past year, we have been using the newly released Course Conditions App by Playbooks to improve our communication to our membership, We have 1300 members at our club, so reaching each one of our members can be a challenge. With the Course Conditions App, we can inform them about daily course conditions, projects that are occurring throughout our club, and important weather alerts through push notifications. Our membership is a big fan of ezLocator and with it being integrated into the Course Conditions app, we now have a one stop shop for our members to enjoy. Two great programs, now in one app is a homerun for our members and I know it will be for your members at your golf club.

Jon Schultz, ezLocator's President added:

The golf industry is rapidly embracing cooperation between vendors to provide best of breed products, said We are excited to offer our open application programming interface (API) to industry partners. Through our technology we are able to quickly and seamless integrate ezLocator with other products and services supporting the golf industry's desire for a unified solution."

There's already an introductory program available from Playbooks for Golf to existing exLocator clients which allows them to download and install the Conditions App for a significantly discounted price. So, go get yours while it's cheap at goplaybooks.com/conditions. Good luck, have fun.