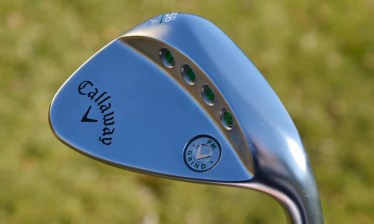 When you think of the greatest wedge player of all time, who comes to mind? For many, the answer would be Phil Mickelson. Phil Mickelson's hall-of-fame career includes 44 PGA Tour victories with five major championships and if that's not impressive enough, he did it during the reign of Tiger Woods. Phil has achieved incredible feats on and off the course. The newly released Callaway PM Grind wedge is the result of Phil Mickelson and wedge making extraordinaire, Roger Cleveland teaming up together to create the best wedge on the market this year.
The PM Grind wedge has an offset face that's larger than previous models. It also features a higher toe than most wedges and gives the player more versatility around the greens. Grooves cover the entire club face in order to help the player generate more spin and get more stopping power. They're goal for this wedge design was to make it capable of hitting three different shots, the knockdown- spins a lot but flys low, the hit and check- bounces once or twice and stops abruptly, and the flop shot- which flies high in the air and stops quickly on the green. Phil is liable to perform all of these shots in any given round of golf so it's no surprise that he had them in mind when creating a wedge.
The offset groove-in-groove technology in the clubface features standard horizontal grooves but also grooves that run diagonally at a 20 degree angle across the face. The combination of a larger face and double grooves will allow the average player to generate more spin with the PM Grind Wedge. Another feature from this club is the extended toe, this raises the center of gravity and allows for more trajectory control on all shots. This sleek looking, well performing, spin increasing wedge is offered in two different color options, Platinum Chrome and Tour Grey and will cost you about $130.