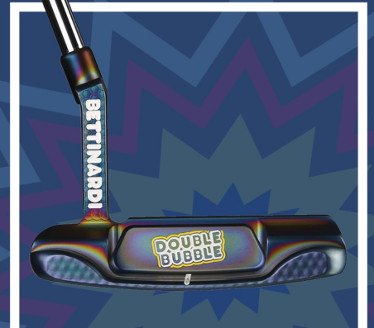 The well-known golf-gear manufacturer Bettinardi revealed recently their latest Double Bubble themed items, which include a super limited DASS BBZero putter, along with a unique St Patrick's Day DASS Lucky BBZero Wizard putter, also in short supply. To begin with the Double Bubble collection, the new releases for 2019 include ball markers, head covers, towels, and a very special and exclusive putter, the DASS BBZero.
The latter is (improbably) named DASS BBZero Double Bubble, which honestly speaking sounds more like kids' stuff, and speaking of kids' stuff, Bettinardi chose a deep violet PVD finish for this baby. But wait, here's the kicker: the DASS BBZero Double Bubble makes for one of the three (you read that correctly) of these cool putters that were handcrafted by the company worldwide. Yes, there are only three of them. Considering this little detail, the $2200 price tag seems quite justified now, right?
Speaking of exclusive stuff for rich golfers, along with the DASS BBZero Double Bubble, Bettinardi also launched a blade and a mallet putter head cover, a ball marker, a club cover set and players towel for golf-aficionados who like to spend their money on custom-made/limited ed ition gear. Obviously, all these accessories are in sync with the DASS BBZero Double Bubble hero, i.e. they're centered on the famous betting game.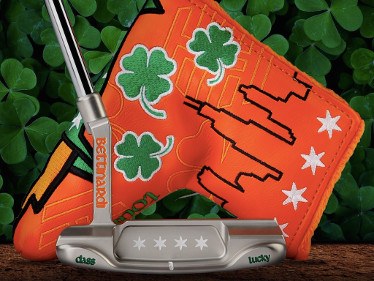 The themed putter head cover will drain $85 (each) from your bank account, which is quite a lot, while the club cover set has a retail price of $300. The ball marker is $60, and the players' towel is $50. I already know what you're thinking: these guys are crazy!
But wait, there's more! If you're into collectibles, you must learn that Bettinardi also launched recently their new St Patrick's Day DASS Lucky BBZero Wizard putter, which celebrates paddies world-wide obviously, making for an Irish themed flat stick which comes with shamrock templates on both the sole and the face; moreover, at a closer look, you'll discover an extra green shamrock embedded on the heel of the putter. The overall putter design is filled with green, white and orange artwork, which represents the proud Irish flag. Together with the paddy-centric-putter, Bettinardi also launched a Betti Chi-rish blade and mallet cover, which features the same green, white and orange colors of the Irish flag, along with Chicago's awesome skyline, which completes the look. We've saved the best for last: we all know that paddies are not the richest folk in the world, but check out these crazy prices: the putter is retailing for $2200, the blade cover for $75 and the mallet covers costs $85. What do you get for this kind of money? Exclusivity baby!