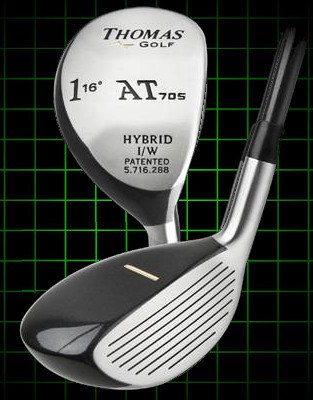 ---
---
Right Handed or Left Handed 1 Hybrid Golf Club, Loft – 18 degree, Lie – 57 degree; Length – 40.5 inches with a graphite shaft. 40 inches with a steel shaft.
Shot Accuracy boost with the shorter shaft option.
The AT 705 1 Hybrid Golf Club is a direct replacement for our standard 1 iron and our 4 fairway wood.
Works will: for long second shots off the short grass or lite rough.
More sole size then a number 1 iron for a better ball strike.
4 grip sizes with a choice of small, standard, mid size, or oversize
Keep your hybrid head looking new with the Thomas Golf protective head cover


Thomas Golf 16 Degree Number 1 Hybrid Graphite Shaft (available in men's R-Flex, S-Flex or Senior A-flex)
THOMAS Frequency & Flex Matched tour-grade seamless shafts made of premium super high modulus graphite fibers provide a light weight of 75 grams for increased swing speed, while maintaining a low torque of 3.3° to reduce head twisting and lagging at impact, resulting in increased shot accuracy. THOMAS shafts are seamless and have been specifically designed to match and optimize the performance of THOMAS heads for alignment accuracy and ball flight. Specialized Mid Kick-Point provides an optimum balance of trajectory & control. Each shaft undergoes extensive testing including Bend Stressing and Frequency Calibration ensuring integrity and consistency from shaft to shaft.
The senior version has… and Specialized Low Kick-Point assists in achieving higher shot trajectory. Each shaft undergoes extensive testing including Bend Stressing and Frequency Calibration ensuring integrity and consistency from shaft to shaft.TG-Pro Grip for Thomas Golf Hybrid 27 Degree Number 5


TG-Pro Grip for Thomas Golf Hybrid 16 Degree Number 1
This newly engineered compound provides the optimum balance of comfort, control, traction and shock absorption.
Available in your choice of four sizes: Small, Standard, Mid-size, Over-sized
Distinctive gold-filled hand placement guide for consistent gripping and accurate club alignment will contribute to greater shot accuracy.
Specially designed multi-tread patterns provide exceptional traction and surface feel in each section of the grip.