Volvik Vista iV: Colorful Option in the Tour Category
---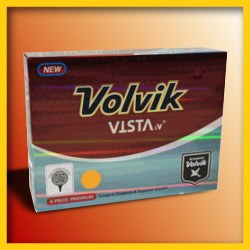 Ball tested: Volvik Vista iV
Category: Tour/Advanced/Performance
Specs: Construction – Four-piece; Cover – Zirconium; Core – Dual; Dimples / Pattern – 392 in "cube-octahedron" design
Price as tested (new): $47.95 per dozen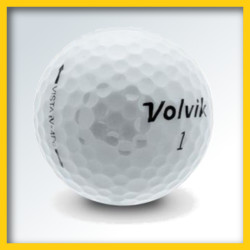 Ball notes: Haven't heard of Volvik? Then you obviously don't follow women's golf. Volvik is the official golf ball of the Symetra Tour (the LPGA equivalent to the PGA's Web.com Tour) and highly popular among female pros. Former U.S. Women's Open champion Birdie Kim and a host of others represent the South Korean company, which only recently entered the U.S. market after years of overseas success.
Compression: High
Volvik's claim to fame is its selection of bright colors, including pink, yellow, orange and green. But there's more to the "No. 1 Color Ball on Tour" than pretty pastels. These balls really perform.
The Vista iV, Volvik's offering in the "tour" category, claimed a silver medal in Golf Digest's 2013 Hot List testing. The company touts the ball's dual core, with a soft outer layer wrapping a firm interior, and its innovative zirconium cover.
At 95 compression, the Volvik Vista iV is recommended for a wide range of swing speeds (80 – 125 mph according to the company). In other words, it's not just for women.
Sound and feel: The Vista iV meets the clubface with a slightly firmer feel than most tour balls, but it's far from harsh. In fact, the firmness lends drives a sensation of power that softer balls sometimes lack. Feel actually seems to soften a bit as you get nearer the green and hit more lofted clubs. That's a good thing.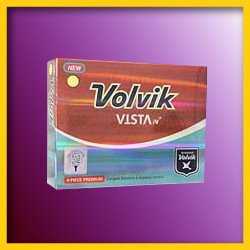 Off the tee: Volvik describes the Vista's ball flight as mid-high, and we'd concur. Most tee shots launched a little higher than we anticipated, but that was actually welcome news – the ball showed a nice down-range carry without abundant spin.
From the fairway / rough: For some reason, we had low expectations for our yellow Vista in this department. (Perhaps traditionalist bias?) We can happily report, however, that spin and shot-shaping capabilities are representative of a tour-caliber ball. As in, excellent.
Around the green: It may sound and feel a little "clicky," but the Vista iV delivers the short game goods. Well struck chips checked up, pitches flew with desired height and bunker shots sat and stopped promptly.
Bottom line: Color us impressed. It's easy to see what makes the Volvik Vista iV so popular around the world – it's an honest-to-goodness high-performance ball. Given the relative scarcity of different colored balls, it would be our first choice if we decided to go in that direction.

Golf Ball Videos:
- Compression Video

- Spin Video

- Dimples Video

- Golf Ball Brands Video

- Titleist Video

- Understanding Spin Video
Value/Recreational/Distance – Designed for mid- to high-handicap golfers with swing speeds below 90 mph; typically feature two-piece construction and firm covers; promote greater distance over high spin rates. Examples: Pinnacle Gold, Slazenger RAW Distance
Premium – Designed for low- to mid-handicap golfers with swing speeds of 90-99 mph; typically feature multi-layer construction and medium-soft covers; happy medium between Value/Recreational and Tour categories for distance and spin qualities. Examples: Titleist NXT Tour, Callaway HEX Diablo
Tour/Advanced/Performance – Designed for low-handicap and professional golfers with swing speeds in excess of 100 mph; typically feature multi-layer construction and soft covers; promote greater spin rates and enhanced feel over distance. Examples: Titleist ProV1, Bridgestone Tour B330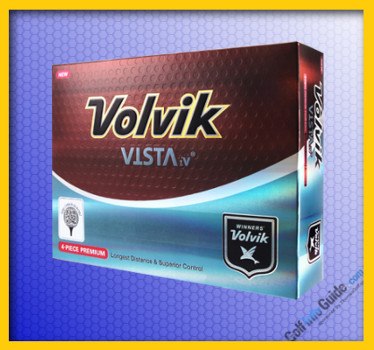 Volvik Vista iV 2016 Golf Ball Review
---
The Volvik Vista iV features, as the name suggests, a four-piece construction and it is marketed as the best Tour ball for longer drivers.
Volvik created this beauty for better golfers and Tour players seeking for the best in terms of playability, enhanced durability and added distance. The Volvik Vista iV is built with state of the art technologies, such as the legendary dual core design, i.e. a hard inner core and a soft outer layer, in good Volvik tradition, promoting a longer flight distance and soft impact. Also, Volvik put into the mix thirteen world-leading patents, for a more accurate approach and explosive distance, optimal spin rates and excellent putting feel, due (among other things) to the powerful and durable cover, namely the Zirconium HZ-II.
The Volvik Vista iV comes with a very soft feel, maybe one of the best in the business, and that's rather peculiar for a 4 piece ball; also, it's designed and built for an 80 to 120 miles per hour swing and it feels effortless and really soft off the tee. The ball features a dual core built, i.e. a hard inner core and a soft outer layer, in which the company added an exotic metal called bismuth for added elasticity and explosiveness. The cover of the Volvik Vista iV is extremely strong and durable, due to the zirconium mixed into its composition, but without sacrificing spin control. The ball has 392 dimples and a 95 compression and thanks to the leading technologies incorporated into its built, I must confess that the Volvik Vista iV is among the best on the market today, being the perfect illustration of the saying: high grade materials and technologies make for lower scores.

Golf Ball Videos:
- Compression Video

- Spin Video

- Dimples Video

- Golf Ball Brands Video

- Titleist Video

- Understanding Spin Video
Value/Recreational/Distance – Designed for mid- to high-handicap golfers with swing speeds below 90 mph; typically feature two-piece construction and firm covers; promote greater distance over high spin rates. Examples: Pinnacle Gold, Slazenger RAW Distance
Premium – Designed for low- to mid-handicap golfers with swing speeds of 90-99 mph; typically feature multi-layer construction and medium-soft covers; happy medium between Value/Recreational and Tour categories for distance and spin qualities. Examples: Titleist NXT Tour, Callaway HEX Diablo
Tour/Advanced/Performance – Designed for low-handicap and professional golfers with swing speeds in excess of 100 mph; typically feature multi-layer construction and soft covers; promote greater spin rates and enhanced feel over distance. Examples: Titleist ProV1, Bridgestone Tour B330