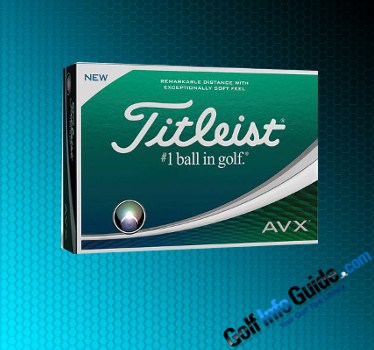 ©Titleist Golf
Titleist AVX Golf Ball Review
Spin: Mid
Dimples: 352 tetrahedral catenary
Compression: Mid
Category Comparison: Tour
Spec: (Three) 3 Piece / Layers
Cover: GRN41 cast thermoset urethane cover
Core: high speed, low compression core technology
Price: $47.99
The Titleist AVX golf ball was created for two main purposes: increased distance and an extraordinary soft feel, due to the company's latest and greatest technologies incorporated into its built. The new Titleist AVX benefits from a state of the art core design, that works together with its patented cover and aerodynamic technology, thus making for a premium golf ball, designed to bring amazing performance to players seeking to increase distance while keeping that exceptionally soft feel we all know and love. The AVX technology delivers a low and piercing ball flight, as this baby was created to be the softest, lowest spinning and lowest flying golf ball in the company's portfolio. On the turf, the Titleist AVX delivers just as advertised, offering a penetrating flight trajectory and unbelievable distance, together with an exceptionally soft feel, premium scoring control and very low iron spin and long game.
The low compression core of the Titleist AVX is built using an innovative technology, which delivers the ball's incredibly soft feel and amazing distance, while the patented GRN41 cast thermoset urethane cover adds to the soft feel, while improving scoring control and durability. In order to promote spin control and increased distance via boosting speed, the Titleist AVX boasts a high flex casing layer and a unique 352 tetrahedral catenary aerodynamic dimple design (spherically-tiled), which improves the ball's aerodynamics while delivering a consistent trajectory on all shots. To make a long story short, the Titleist AVX is the ideal choice for golfers looking for a premium golf ball (performance wise) built with an emphasis on soft feel and long distance. The new AVX is available in two color options: the classic white and yellow, which marks a first for the company in its Tour-performance category. The best way to describe it would be that the Titleist AVX makes for a cheaper alternative to the company's iconic Pro V1, offering top notch all around performance and a softer feel compared to the latter.

Golf Ball Videos:
- Compression Video

- Spin Video

- Dimples Video

- Golf Ball Brands Video

- Titleist Video

- Understanding Spin Video
Value/Recreational/Distance – Designed for mid- to high-handicap golfers with swing speeds below 90 mph; typically feature two-piece construction and firm covers; promote greater distance over high spin rates. Examples: Pinnacle Gold, Slazenger RAW Distance
Premium – Designed for low- to mid-handicap golfers with swing speeds of 90-99 mph; typically feature multi-layer construction and medium-soft covers; happy medium between Value/Recreational and Tour categories for distance and spin qualities. Examples: Titleist NXT Tour, Callaway HEX Diablo
Tour/Advanced/Performance – Designed for low-handicap and professional golfers with swing speeds in excess of 100 mph; typically feature multi-layer construction and soft covers; promote greater spin rates and enhanced feel over distance. Examples: Titleist ProV1, Bridgestone Tour B330
Titleist Announces New-Gen AVX Golf Ball for 2020
---

©Titleist Golf
Titleist announced recently the new-gen 2020 Titleist AVX golf ball, which continues the company's tradition of continually improving its products and delivering golfers with performance enhanced/driven gear. Another great thing about the newest AVX golf ball from Titleist is that it's crafted with direct input from Tour pros, hence it's as good as it gets. However, the AVX can be used by golf players of all levels as it features a reformulated core, a low-compression one respectively.
The low compression core works in tandem with the redesigned casing layer, which uses a high-flex material, i.e. the new AVX makes for a professional grade golf ball with more speed than ever before and low long-game spin, for better distance. When it comes to golf balls, golfers are known to be picky and finicky, and sometimes they prefer subjective things life feel instead of tech-variables that lead to more real-life performance, hence the new AVX was developed with these things in mind.
More precisely, Titleist asked players what exactly they appreciated at the older-gen AVX golf ball and what are the areas that could be improved. Basically, Titleist took an already great golf ball and tried to make it perfect via direct input from its customer. The quasi-unanimous response was more short game control, i.e. more spin, more feel, but don't "cuck" on distance! And yes, these are the features most of us would love from a high performance (and expensive) golf ball. Titleist abode, but before getting down to business, let's give you a little bit of context first. The first-gen AVX was introduced back in 2018, after the prototype was tested for four months between October 2017 and January 2018 in key markets (read Florida). We're only kidding, of course, but the thing about the AVX is that it made for Titleist's first premium-tier urethane golf ball brand since the introduction of the legendary Pro V1x. The AVX was a tad less performance-driven and also more affordable, making for a cheaper, lower spin/lower flight alternative to the company's flagship golf ball.

©Titleist Golf
Since every high performance golf ball that's worth its salt is built from the inside out, the same goes for the 2020 AVX, which was significantly upgraded, or, to put it in automotive terms, it got a brand new engine. By engine we refer to the reformulated and larger low compression core, of course. The new engine works together with the aforementioned high-flex casing layer to provide low long-game spin and improved ball speed for ludicrous distance, plus a catenary aerodynamic dimple design. In case you are wondering what's that, to make it real simple, the new AVX is designed to produce a low (yet piercing) trajectory and a consistent ball flight through better aerodynamics. The new and very thin cast urethane cover is also aimed at improving spin and feel, and since the AVX already had a larger core-size, it was pretty easy for the engineers to come up with a thinner cover. Like we already told you, golf balls are designed from the core out.
As Frederick Waddell, Senior Product Manager, Titleist Golf Balls puts it:

"The improvements to AVX are a direct result of their insights and the inventiveness of our R&D team to take this design to the next level – and we expect golfers to see better numbers across the board. The new AVX is faster and longer, it performs better around green, and delivers even more of the incredibly soft feel that golfers love about this product."

If you're already sold on the AVX story, the good news is that you can already order a dozen of these babies in both white and optic yellow color ways for $47,99. As you can see, the AVX is not the cheapest of the bunch, but at least it has a nice story behind and since it's a Titleist, well, you know the drill. Performance doesn't come cheap.

Golf Ball Videos:
- Compression Video

- Spin Video

- Dimples Video

- Golf Ball Brands Video

- Titleist Video

- Understanding Spin Video
Value/Recreational/Distance – Designed for mid- to high-handicap golfers with swing speeds below 90 mph; typically feature two-piece construction and firm covers; promote greater distance over high spin rates. Examples: Pinnacle Gold, Slazenger RAW Distance
Premium – Designed for low- to mid-handicap golfers with swing speeds of 90-99 mph; typically feature multi-layer construction and medium-soft covers; happy medium between Value/Recreational and Tour categories for distance and spin qualities. Examples: Titleist NXT Tour, Callaway HEX Diablo
Tour/Advanced/Performance – Designed for low-handicap and professional golfers with swing speeds in excess of 100 mph; typically feature multi-layer construction and soft covers; promote greater spin rates and enhanced feel over distance. Examples: Titleist ProV1, Bridgestone Tour B330