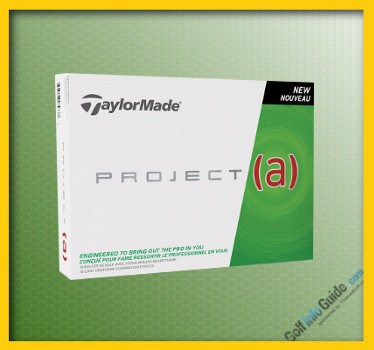 © Taylormade Golf
TaylorMade Project (a): Spin it Like a Tour Pro
---
Ball tested: TaylorMade Project (a)
Category: Premium
Feel: Soft
Tested for golfers with average driving distance of: 196 to 245 (carry + roll)
Specs: Construction – Three-piece; Cover – Urethane; Core – Urethane; Dimples – 360
Compression: Mid
Price as tested (new): $32 per dozen
Ball notes: For golf ball companies, the Holy Grail is a ball that performs for amateurs the same way "tour" balls work for pros. That means maximum distance off the tee paired with sizzling spin with the wedges and around the greens.
Of course, most manufacturers claim to make just such a magic ball. For Callaway, it's the Supersoft. Bridgestone touts its Tour B-330 RXS as the perfect ball for everyday players. Now its TaylorMade's turn.
In 2014, the company launched a ball called Project (a), proclaiming it "engineered to bring out the pro in you." According to TaylorMade, amateurs produce only 50% of the spin generated by tour pros. Project (a) aims to bridge that gap with exceptionally high spin rates when you're within wedge distance of the target.
TaylorMade's website displays a chart showing how thoroughly Project (a) outperforms its competitors – including Titleist's NXT Tour and Velocity models – on shots of 30 and 60 yards. Assuming the chart is accurate (and we have no reason to believe otherwise), Project (a)'s 7,400 RPMs at 60 yards nearly double the nearest tested competitor; at 30 yards, Project (a) beats the next best ball by about 1,500 RPM.
That, in TaylorMade's words, qualifies as "big boy spin."
We were intrigued by TaylorMade's claims, and curious as to how well the Project (a) would fare on longer shots. Here's what we found.
On the clubface: Project (a) features three-piece construction and a urethane cover, which matches most tour models and differentiates it from the typical "premium" ball. This makeup should guarantee soft feel and lots of spin.
In the feel department, Project (a) is undeniably soft – we're talking stick-to-the-clubface soft. Golfers accustomed to playing firmer two-piece balls may need time to adjust to this sensation, while those who use multi-layer models should love it.
Our testers found the Project (a) just right on the greens. Not too "mushy" or "thumpy," but without the harsh "click" of some two-piece balls.
Off the tee: This ball is designed for players who lack professional-level clubhead speed (110-plus mph with the driver); in fact, it's probably not suited for anyone who swings at 100 mph or higher.
If you're in the appropriate swing speed range, you should enjoy a nice, high launch and trajectory with the TaylorMade Project (a). Distance is similar to other balls in its class. We experienced good if not exceptional accuracy as well.
Golfers with faster swing speeds may generate too much spin – both backspin and sidespin – with the Project (a). This will rob them of both distance and accuracy.
From the fairway / rough: The same swing speed caveats apply here. Golfers in the proper range, however, will love the Project (a)'s performance off the irons, hybrids and fairway woods. The ball carries high, but not too high, with exceptional stopping power. You can even fade and draw this ball if you're so inclined and skilled.
TaylorMade's claims regarding wedge spin bore out in the field. Project (a) spins and stops exceptionally well on shots from inside 100 yards.
Around the green: Here, too, Project (a) outperforms its competitors. Golfers with genuine pitching and chipping chops will be delighted with this ball's action on any shot they can dream up. True to TaylorMade's promise, this ball can make an amateur feel like a pro – provided he catches the ball cleanly and on the club's sweet spot, of course.
Bottom line: Golf ball companies are not only making better products than ever, they're tailoring them to specific golfers with well-defined needs and preferences. TaylorMade's Project (a) is a prime example. This ball does exactly what it's maker claims – it generates superb, tour-like spin and control in the short game while keeping up with competitors off the tee. Any golfer with a swing speed in the 90 – 100 mph range would do well to try this model.

Golf Ball Videos:
- Compression Video

- Spin Video

- Dimples Video

- Golf Ball Brands Video

- Titleist Video

- Understanding Spin Video
Value/Recreational/Distance – Designed for mid- to high-handicap golfers with swing speeds below 90 mph; typically feature two-piece construction and firm covers; promote greater distance over high spin rates. Examples: Pinnacle Gold, Slazenger RAW Distance
Premium – Designed for low- to mid-handicap golfers with swing speeds of 90-99 mph; typically feature multi-layer construction and medium-soft covers; happy medium between Value/Recreational and Tour categories for distance and spin qualities. Examples: Titleist NXT Tour, Callaway HEX Diablo
Tour/Advanced/Performance – Designed for low-handicap and professional golfers with swing speeds in excess of 100 mph; typically feature multi-layer construction and soft covers; promote greater spin rates and enhanced feel over distance. Examples: Titleist ProV1, Bridgestone Tour B330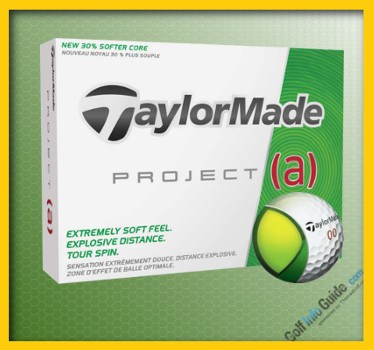 © Taylormade Golf
TaylorMade New 2016 Project (a) Golf Ball
---
Ball tested: TaylorMade Project (a) 2016
Category: Premium
Feel: Soft
Tested for golfers with average driving distance of: 196 to 245 (carry + roll)
Specs: Construction – Three-piece; Cover – Urethane; Core – Urethane; Dimples – 360
Compression: Mid
The Project (a) golf ball is aimed at mid-handicap players, so it will work for a large majority of the golfing population. If you consistently shoot scores in the 80's or 90's for 18 holes, you may want to give this ball a try for yourself. The 2016 version of the Project (A) has been designed with a softer core in order to make it easier to use around the greens. However, it is still intended to give you great distance at the same time, so you might find that this ball is able to perform nicely for you from the tee all the way through the green.
It is important for mid-handicap players to select a ball that they are able to control as they go around the course. Many players in this ability range pick a Tour-level ball, because they think those balls are the 'best' on the market. Unfortunately, most players don't possess the skill necessary to control that kind of golf ball, meaning they are only making their bad shots worse by picking a ball with a higher spin rate. Try out a ball like the 2016 Project (a) in your own game and you just might find that it provides you the performance necessary to lower your scores.

Golf Ball Videos:
- Compression Video

- Spin Video

- Dimples Video

- Golf Ball Brands Video

- Titleist Video

- Understanding Spin Video
Value/Recreational/Distance – Designed for mid- to high-handicap golfers with swing speeds below 90 mph; typically feature two-piece construction and firm covers; promote greater distance over high spin rates. Examples: Pinnacle Gold, Slazenger RAW Distance
Premium – Designed for low- to mid-handicap golfers with swing speeds of 90-99 mph; typically feature multi-layer construction and medium-soft covers; happy medium between Value/Recreational and Tour categories for distance and spin qualities. Examples: Titleist NXT Tour, Callaway HEX Diablo
Tour/Advanced/Performance – Designed for low-handicap and professional golfers with swing speeds in excess of 100 mph; typically feature multi-layer construction and soft covers; promote greater spin rates and enhanced feel over distance. Examples: Titleist ProV1, Bridgestone Tour B330