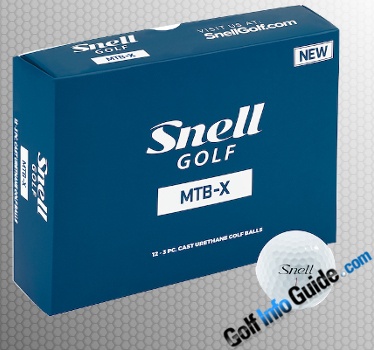 © Snell Golf
Spin: High
Dimples: 360
Compression: Mid
Category Comparison: Tour
Spec: (Three) 3 Piece / Layers
Cover: Urethane thin cast
Core: Lower Compression Core
Price: $32.99
The new MTB-X golf balls are joining Snell's golf ball lineup, and the good news is that from now on, all MTB family is now available in Optic yellow. The latest MTB-X golf ball model was unveiled a couple of weeks ago, and it's basically the successor of Snell's MTB Red. There are two new versions available in the new MTB-X line up, the MTB-X respectively and the MTB Black.
The latter is created for golfers who are looking for a softer feel, and the ball is designed to be the perfect fit for players with a medium level of spin. On the other hand, the MTB-X golf ball is perfect for players with a higher level of spin, looking for firmer feel. However, both the MTB Black and the MTB-X are designed to provide maximum distance off the tee, i.e. for low driver spin.
Snell is a company which is well known for making golf balls that play in the "best bang for the buck" category, as Dean Snell, Snell Golf's "founding father" is one of the folks who patented the legendary Titleist Pro V1, and he boasts more than 40 patents under his belt during his 30 years of experience in golf ball design, both for TaylorMade and Titleist. Speaking of credibility, the new MTB-X golf balls have an impressive pedigree, to say the least. Mr. Dean Snell has been quoted as saying about the introduction of his latest MTB-X ball that: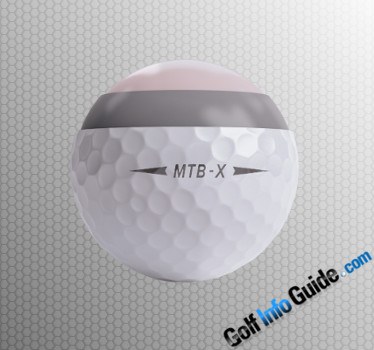 "I get lots of people writing in and I read every one of them and write down notes. It's like having our own focus group. This is designing balls for everyday golfers. Having Dustin Johnson telling me he needs more or less spin on his 8-iron shot is not going to help me design a ball for everyday golfers. In 2018, customer feedback of our MTB RED model led us to a new design target. We felt we could provide high spin for approach shots while lowering driver spin and maximizing distance off the tee. The new MTB-X model has accomplished both of those goals and has added the elite feel & durability of a cast urethane cover. Players who enjoyed the MTB RED model will find MTB-X to be very long, extremely durable, and offer improved aerodynamics for strong performance in windy conditions."

The new MTB Black features a 360-dimple pattern, unlike the old Red's 338. The new design provides low lift/low drag for reducing ballooning in the wind and for providing a more controlled ball flight. However, the most significant change in the new MTB-X line-up is the thin cast urethane cover, compared to older generations that used thermoplastic urethane. The new urethane thing allowed the company to create a golf ball with a soft core and a firm/thick mantle layer. As Snell described it, "It's like having a soft, two-piece ball under the urethane cover so you get the distance boost while maintaining the greenside spin and feel".

Basically, the new Snell MTB-X is designed with feedback from "real life customers", and that's nothing short of amazing. The new golf balls can be pre-ordered from the company's official website, with the first shipments being scheduled to begin from early April. In case you were wondering about the price, you can get a dozen of MTB-X golf balls for just $32.99. If you order 5 dozens, the price drops to $27.99/dozen.

Golf Ball Videos:
– Compression Video

– Spin Video

– Dimples Video

– Golf Ball Brands Video

– Titleist Video

– Understanding Spin Video
Value/Recreational/Distance
– Designed for mid- to high-handicap golfers with swing speeds below 90 mph; typically feature two-piece construction and firm covers; promote greater distance over high spin rates. Examples: Pinnacle Gold, Slazenger RAW Distance
Premium
– Designed for low- to mid-handicap golfers with swing speeds of 90-99 mph; typically feature multi-layer construction and medium-soft covers; happy medium between Value/Recreational and Tour categories for distance and spin qualities. Examples: Titleist NXT Tour, Callaway HEX Diablo
Tour/Advanced/Performance
– Designed for low-handicap and professional golfers with swing speeds in excess of 100 mph; typically feature multi-layer construction and soft covers; promote greater spin rates and enhanced feel over distance. Examples: Titleist ProV1, Bridgestone Tour B330