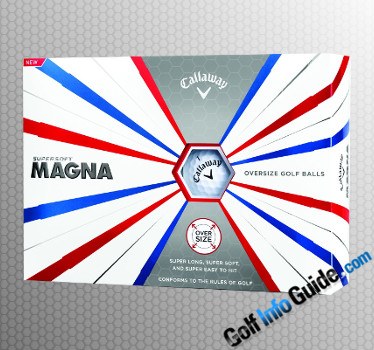 © Callaway Golf
Spin: Low
Dimples: 332 HEX Aerodynamics
Compression: Low
Category Comparison: Value
Spec: (Two) 2 Piece / Layers
Cover: Trionomer Cover
Core: Supersoft low compression
Price: $22.99
Callaway just launched their latest-gen Supersoft Magna golf balls, and the good news for golf aficionados is that this time, these babies are available in the "evergreen" oversized flavor since February 8th. Retailing for $22.99 a dozen (MSRP), these "larger than life" golf balls stand at 1.732 inches (Diameter), which is a tad more compared to "normie" golf gear, and they're available in white and optic yellow.
True to their name, the Supersoft Magna (magna means great in Latin) are boasting a 2-piece construction with a ionomer cover, being bigger and easier to hit than ever before. On top of that, these multi-piece golf balls are engineered to deliver tour level spin and distance around the greens, while keeping an amazing soft feel. Since these babies are larger than normal (and lots of fun), it's pretty clear that they're designed to appeal to slower swinging/high handicap golfers, making for "game improvement" golf balls, if there is such a thing to begin with.
However, even if the Supersoft Magnas are 1.732 inches in diameter, there are a few things to learn about them, the hows and whys so to speak: first things first, despite their abnormal size, these golf balls are totally kosher, as in legit, being in full compliance with the U.S. Golf Association and R&A Rules of Golf.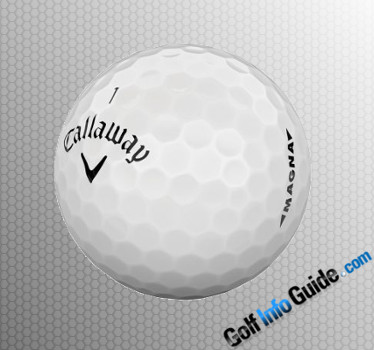 Another thing to contemplate is that the Supersoft Magna golf ball is not the best choice if you're a serious amateur or golf pro. If that's the case, you should look for other golf balls from Callaway's line-up, the likes of Chrome Soft, Chrome Soft X and the new ERC Soft. The point being, the Callaway Supersoft Magna is designed almost exclusively for higher handicap players, i.e. golfers who struggle constantly to hit solid shots and/or to make consistent contact.
That's why these golf balls are three percent larger compared to normal/standard balls, which are 1.68'' in diameter in case you were wondering. Even if the difference is rather minimal, the three percent increase in size allowed Callaway to subtly raise the ball's CoG (center of gravity), thus making it easier for not-so-skilled players to get the leading edge of a wedge or an iron under the equator of the Supersoft Magna, i.e. to achieve a wholesome shot and to make solid contact with the ball shot after shot, round after round.
However, despite the boost in diameter, the low spin/low compression Callaway Supersoft Magna has the exact same weight as a standard golf ball, due to its less dense core materials. It's also worth mentioning that its larger size comes with a caveat: the ball creates more drag than usual as it flies through the air, hence you should expect a slight decrease in distance. To counteract this effect, Callaway design the Supersoft Magna with a more aerodynamic cover dimple pattern; regardless, don't expect to hit 300 yard drives with this golf ball, as you'll be disappointed. If you're a fast swing golfer, you'll most probably lose distance with the Supersoft Magna, so keep that in mind for further reference.
But, if you're a senior/junior golfer, i.e. a person that kind of lacks clubhead speed, a fair weather-casual, lower swing speed, out for some fun-higher handicap type, who is trying to get the most of his game and hot more greens and fairways with an affordable ball that feels very nice and soft, and offers great value for the money while coming from a premium ball company, the Callaway Supersoft Magna has your name on it, as they've just created your new favorite golf ball.
Many old-school golfers remember the Magna nomenclature from the older TopFlite brand, which was bought by Callaway (together with Spalding) years ago .However, the new Supersoft Magna plays in a league of its own, being a whole new beast. The most important thing about this baby is that it uses the exact same materials and state of the art technologies from Callaway's SuperSoft line, but with a twist: the Magna is larger and easier to get airborne, due to its higher COG. Generally speaking, larger balls will provide the "owner" with more confidence to make contact, as they're easier to hit and have a higher moment of inertia.
However, a larger golf ball is not so great in the wind, right? To mitigate this issue, Callaway put their best technology into play, and we're talking about the patented HEX Aerodynamics cover design, which is aimed at helping eliminating the extra drag due to the ball's larger surface. However, don't expect the piercing capabilities of, let's say Callaway's Chrome Soft. But, due to the Supersoft Magna's straighter flight and lower spin, you should at least strive to maintain your regular distance, provided you hit this baby hard enough. To tell you the truth, I'm opposed to these. I get a lot of free beers betting that I can get four golf balls in my mouth at one time. I'll only be able to manage three with these even with my teeth out.

Golf Ball Videos:
– Compression Video

– Spin Video

– Dimples Video

– Golf Ball Brands Video

– Titleist Video

– Understanding Spin Video
Value/Recreational/Distance
– Designed for mid- to high-handicap golfers with swing speeds below 90 mph; typically feature two-piece construction and firm covers; promote greater distance over high spin rates. Examples: Pinnacle Gold, Slazenger RAW Distance
Premium
– Designed for low- to mid-handicap golfers with swing speeds of 90-99 mph; typically feature multi-layer construction and medium-soft covers; happy medium between Value/Recreational and Tour categories for distance and spin qualities. Examples: Titleist NXT Tour, Callaway HEX Diablo
Tour/Advanced/Performance
– Designed for low-handicap and professional golfers with swing speeds in excess of 100 mph; typically feature multi-layer construction and soft covers; promote greater spin rates and enhanced feel over distance. Examples: Titleist ProV1, Bridgestone Tour B330