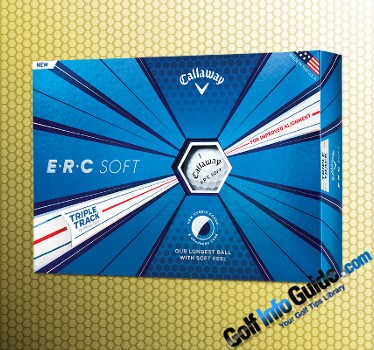 © Callaway Golf
Spin: Low
Dimples: 332 HEX Aerodynamics
Compression: Low
Category Comparison: Tour
Spec: (Three) 3 Piece / Layers Dual Core
Cover: Hybrid
Core: Graphene Dual Core
Price: $39.99 ERC Soft
Callaway Golf just revealed their latest ERC Soft golf balls for 2019, and we're talking about a magic-trio of sorts: the brand spanking new Supersoft 19', along with 2 absolutely new products: the ERC Soft, which is a high performance golf ball, and the Supersoft MAGNA. And yes, the latter, as its name suggests, is lager than life, i.e. larger than "normie" golf balls.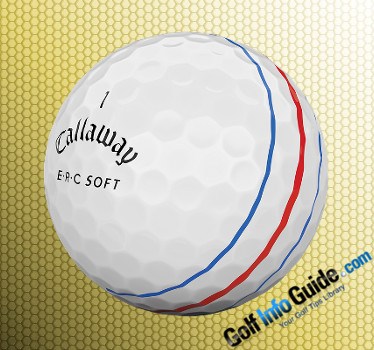 © Callaway Golf
Each of the 3 new golf balls announced by Callaway in 2019 is built and designed to appeal to different types of golfers, in terms of performance that is, and each comes with its unique flavor. Basically, the new ERC soft balls are targeting a different aspect of performance as their unique selling point, and they'll be available in retail stores staring with February 8th at $39.99 per dozen for the ERC Soft, $22.99 per dozen for the ERC Supersoft and $22.99 per dozen for the Supersoft Magna.
The company describes its new products as the ERC Soft Triple Track and they're marketed as the longest golf balls with soft feel ever made by Callaway, due to their innovative design and state of the art technologies incorporated into their built, which, let me quote: "will set a new standard for distance-enhancing performance."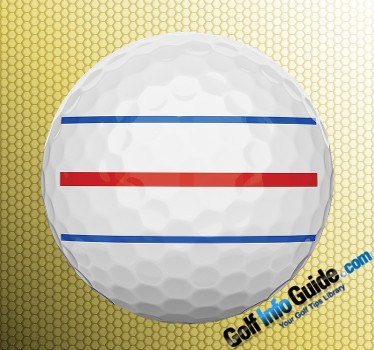 © Callaway Golf
The ERC acronym stands for Ely Reeves Callaway, Callaway Golf's founder, a truly innovator and visionary in golf. Also, the revolutionary Triple Track Technology uses the same tech used to land jets on aircraft carriers, and I am talking about Vernier Acuity Precision, a technology that dramatically improves alignment, compared to the industry standard, i.e. the classic side stamp alignment aid.
One of the main features of the ERC Soft golf ball from Callaway is the brand new and innovative Hybrid Cover, that uses a composite material of sorts, engineered for delivering an amazingly soft feel and improved ball speeds for longer distance, and also more spin, which translates into improved control around the green. Callaway also designed this golf ball with the company's largest ever Graphene-infused Dual SoftFast Core. In layman's terms, this bad boy consists of a larger than usual inner core, created to deliver faster ball speeds via maximizing compression energy, while in the same time promoting greater distance via higher launch by minimizing driver spin. I know, it sounds pretty complicated, but it really works in real life.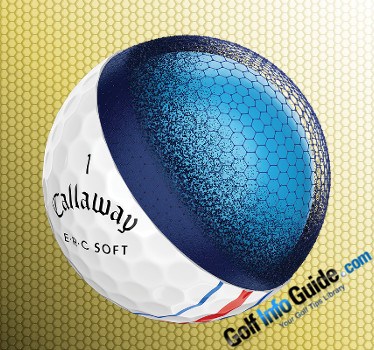 © Callaway Golf
The Supersoft is an interesting melange of the company's lowest compression core with a brand new soft cover (hence its name) and HEX aerodynamics. The latter technology works wonders in terms of lowering the spin rate, which translates into reduced drag, increased carry distance, and higher flight. The Supersoft's ultra low compression core also contributes in terms of creating low spin for a straighter and longer flight. On top of that, the Supersoft golf ball features Callaway's patented Trionomer cover, designed to deliver greater shot stopping spin when around the green and better feel for golfers of all skill levels.
Finally, the Supersoft Magna makes for a "supersized golf ball", which is still in compliance with the USGA Rules of Golf. Bigger is better for slow swing speed golfers and "green horns", as a larger golf ball with a high moment of inertia/higher center of gravity obviously helps with making better contact on the club face, and also delivers where it counts, i.e. it offers a higher launch. Besides its game improvement features, the Supersoft Magna golf ball comes with all the characteristics of the Supersoft, including the aforementioned HEX Aerodynamics, the ultra low compression core and the soft Trionomer cover.

Golf Ball Videos:
– Compression Video

– Spin Video

– Dimples Video

– Golf Ball Brands Video

– Titleist Video

– Understanding Spin Video
Value/Recreational/Distance
– Designed for mid- to high-handicap golfers with swing speeds below 90 mph; typically feature two-piece construction and firm covers; promote greater distance over high spin rates. Examples: Pinnacle Gold, Slazenger RAW Distance
Premium
– Designed for low- to mid-handicap golfers with swing speeds of 90-99 mph; typically feature multi-layer construction and medium-soft covers; happy medium between Value/Recreational and Tour categories for distance and spin qualities. Examples: Titleist NXT Tour, Callaway HEX Diablo
Tour/Advanced/Performance
– Designed for low-handicap and professional golfers with swing speeds in excess of 100 mph; typically feature multi-layer construction and soft covers; promote greater spin rates and enhanced feel over distance. Examples: Titleist ProV1, Bridgestone Tour B330