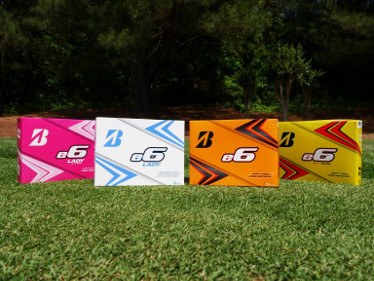 © Bridgestone Golf
Spin: Mid
Dimples: Traditional Dimple Pattern
Compression: Low
Category Comparison: Value
Spec: Two-Piece 2-Layers
Cover: Surlyn Cover
Core: low compression core
Price: $21.99
Comes in white and optic yellow – Ladies optic pink
If you're a slower swing speed golfer looking for that super soft feel we all know and love, along with maximum distance, the good news is that Bridgestone golf just revealed their latest/reformulated e6 golf ball. The company which prides with the fact that it makes for the number one Ball-Fitter in Golf announced recently the introduction of its reformulated e6 ball, which delivers lots of bang for the proverbial buck for slow/moderate swing speed golfers, who seek to improve their distance stats but are not willing to compromise in terms of feel. And speaking of feel, the reformulated e6 golf balls from Bridgestone are buttery soft, or so we're told.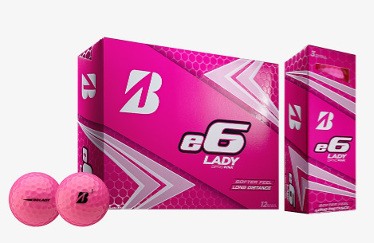 © Bridgestone Golf
In order to create a buttery smooth yet affordable golf ball, the e6 is designed with a two-piece low compression construction, which makes sure that low swing speed golfers can totally activate the core when it comes to tee shots, which further translates into playing the e6 equals improved distance with any club in one's bag. The low compression core is responsible for providing players with a super soft feel, and as Golf Ball Marketing Manager at Bridgestone Golf Elliot Mellow told us:

"The e-Family of Bridgestone golf balls keeps getting better and better. With the recent introduction of e12 SOFT and SPEED, we've ensured that players who love the feel and playability of a 3-piece, surlyn construction golf ball have two distinct swing speed options in our e-product lineup. In addition, now we have reformulated the e6 to provide a more economical option for consumers who are seeking distance and super soft feel."

Lady golfers were not forgotten, as Bridgestone Golf launched a special edition, the e6 Lady (very inspired name by the way) golf ball which features a tad lower compression, yet it manages to deliver the same buttery smooth feel and reliable/predictable distance, while being even softer than its "male" counterpart. The price you asked? Well, the e6 is a very affordable high performance golf ball, i.e. .it retails for just $21.99 per dozen on both versions. The "men only" e6 comes in classic white and optic yellow color ways, while the e6 Lady can be ordered in white and optic pink hues.

Golf Ball Videos:
– Compression Video

– Spin Video

– Dimples Video

– Golf Ball Brands Video

– Titleist Video

– Understanding Spin Video
Value/Recreational/Distance
– Designed for mid- to high-handicap golfers with swing speeds below 90 mph; typically feature two-piece construction and firm covers; promote greater distance over high spin rates. Examples: Pinnacle Gold, Slazenger RAW Distance
Premium
– Designed for low- to mid-handicap golfers with swing speeds of 90-99 mph; typically feature multi-layer construction and medium-soft covers; happy medium between Value/Recreational and Tour categories for distance and spin qualities. Examples: Titleist NXT Tour, Callaway HEX Diablo
Tour/Advanced/Performance
– Designed for low-handicap and professional golfers with swing speeds in excess of 100 mph; typically feature multi-layer construction and soft covers; promote greater spin rates and enhanced feel over distance. Examples: Titleist ProV1, Bridgestone Tour B330