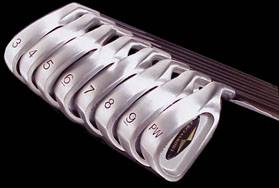 All of history's greatest golfers have been brilliant golf iron players. He who can hit the irons with accuracy and control enjoys a major advantage on most competitors. 
Many amateurs neglect practicing with their golf irons in favor of hitting the driver, shot after shot. Since proper iron play requires striking the ball with a downward blow – the opposite of the ideal driver swing – these golfers fail to develop this crucial skill. 
This section includes a step-by-step guide to a solid iron swing as well as golf tips on choosing the right clubs for you.