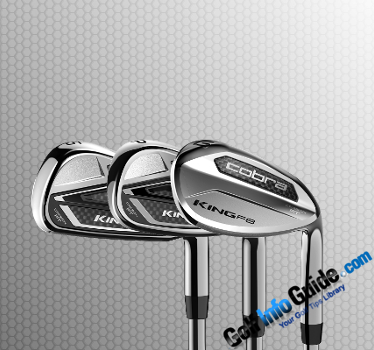 Photo Packaging Product Credit: ©Cobra King Golf
The Cobra King F8 Irons retail for $799 and they make for the company's first set of irons boasting Cobra Connect Technology, a clever gimmick which takes game improvement to the next level. All the irons in the set come with Cobra's patented carbon fiber-tuned PWRShell technology, which dramatically improves speed and delivers long/towering shots. It's worth mentioning that the F8 irons are the proud successors of the company's King F7 distance iron. However, while the F7 gen had 4 head constructions, the King F8 only has 3: half hollow design in the mid-irons, cavity back and specialty. The new and improved PWRShell cup face insert has a variable face thickness and it's 7 grams lighter, which enables it to flex more upon ball impact, thus to deliver improved speed. The 4 to 7 irons feature V-shaped mill grooves, aimed at reducing spin. One of the most interesting features in the Cobra King F8 Irons Set is the Cobra Connect Arccos technology, which consists of a range of shot tracking sensors built into the grips (they come as a standard feature), that will help you with improving your game by providing interesting statistics about your performance after each swing, provided you pair your golf gear with your smartphone using Cobra's free app.
You'll have GPS access to over 40,000 golf courses to help with tracking your game, and the sensors will record automatically every swing, displaying the metrics on your smartphone in real time. Also, the Cobra King F8 Irons Set comes fully loaded with the company's patented carbon feel technology, which consists of a carbon fiber medallion that supports a thinner face to deliver improved feel and sound, a lower profile design to lower the center of gravity for more clubhead speed and higher launch, together with the TECFLO advanced construction technology, which tailors performance for every individual iron. If you're a golfer in the mid to high handicap category, the Cobra King F8 Irons Set would make for a nice addition to your paraphernalia if you're looking for more distance and high tech features in an affordable set of irons from a reputable company.