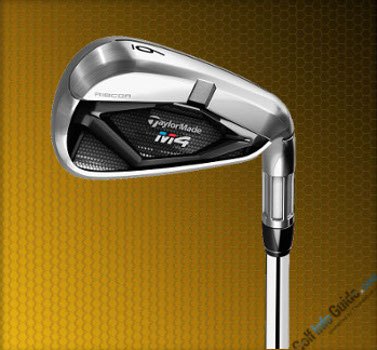 Photo Packaging Product Credit: ©TaylorMade Golf
The TaylorMade M4 Irons retail for $899.99 (MSRP) and the company claims them to be the longest and most accurate ever. The M4 irons replace the older M2 gen and even if visually speaking they look pretty much the same, the M4s feature a progressive design which is aimed at improving ball speed and forgiveness. The new M4 irons are perfect for players seeking more distance, feel and forgiveness and they come fully loaded with the company's latest technologies. Speaking of bells and whistles, these babies have it all: Face Slots, RIBCOR, a redesigned Inverted Cone and the patented Speed Pocket. The thing is, Taylormade individually optimized each of the aforementioned technologies specifically for their new M4 irons, with the end game being forgiveness and incredible distance. With forgiveness being an essential pillar of the M4 irons' "raison d'etre", the company made great efforts to achieve its high moment of inertia design, and they managed to pull that off by optimizing mass distribution, an innovation that provided the M4 irons with high resistance to twisting of the head when it comes to off center impacts.
In layman's terms, this translates into improved forgiveness all across the face and preserved ball-speeds. The new RIBCOR technology in the M4 irons provides unparalleled levels of accuracy and consistence in the company's longest ever irons. Add to the mix the M4 irons' thin face and the ultra-thin leading edge, not to mention the thin walled Speed Pocket and you'll see why these babies brag to produce the fastest ball speeds ever seen in a Taylormade iron. And if you're wondering what's up with RIBCOR, well, to put it simply, this patented technology is aimed at stiffening the iron body, and in the same time it promotes a better energy transfer to the ball at impact. Bottom line, if you're looking for maximum distance, the new Taylormade M4 irons will suite you like a glove and keep in mind they're a bit more refined than the previous gen. Hence, if you were happy with the M2, you'll definitely fall in love with the M4s.