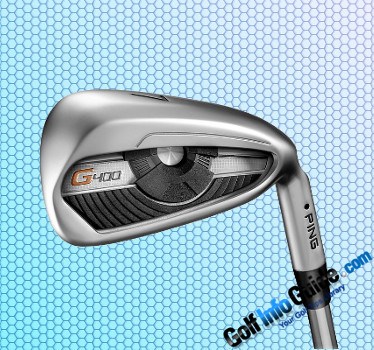 Photo Packaging Product Credit: ©Ping Golf
The Ping G400 Ironsare on obvious choice for any golf player seeking forgiveness, but that's not all. These babies are also surprisingly good looking, really easy to hit and really long. To make a long story short, Ping did a great job with the G400 irons, and keep in mind that we're talking about a company that doesn't traffic in hyperbole. To begin with, what you'll notice from the first second will be the sole. The Ping G400's sole is medium in size, and particularly in the long irons, is designed (as in shaped) to look even smaller than it actually is.
This speaks volumes about the company's attention to detail, which is obvious throughout the set. Also, the top line looks razor thin at address, being almost invisible. When it comes to playing the G400 irons, words hardly do them justice, as they feel firm and solid, and I must make a special mention with regard to the impact sound, which actually defies description. If you want to know what I am talking about exactly, you'll have to hit the G400 irons yourself. Performance wise, the Ping G400 irons come with 18 percent more face bending and have a 40 percent thinner face compared to the previous generation, for increased ball speed and 18 percent tighter dispersion. Also, the hydropearl finish provides 40 percent less friction through the turf, which translates into improved spin and launch in wet conditions. Tech talk aside, these irons really deliver in terms of distance, as they're amazingly long and they provide playable trajectories. I will end up this review with G400 irons' promotional material, which says "engineered to enjoy". Truer words were never spoken. If you're looking for great feel and sound, long distances, forgiveness and consistency for your shots, the Ping G400 irons should be on your short list.